Due to the rain forecast for Sunday, April 23rd,
the Open House has been postponed to
Sunday, April 30th.
On July 9th, 1932, Lou & Virginia Austin purchased an abandoned resort in Capon Springs.  Through three generations the Austins has welcomed families, couples, individuals and groups from all over the world.  In 2017, we will celebrate our family legacy with a series of 85th anniversary events and programs.
Please join us as we honor this historic milestone by hosting a community open house, Sunday, April 30th from 1-6pm.  After checking in at the Main House front desk,  explore the grounds, try all recreational facilities (including the award-winning pool), learn about our history and current happenings, hear some great local blue grass music and enjoy some light refreshments.
With advanced reservations, you can book a round of golf and BBQ dinner at Sunset lodge.  Please call Monday to Friday 9am-3pm to secure your spot.  Would you like to try the Hygeia Bath House and Spa?   Appointments can be arranged ahead of time by email [email protected]  (See below for charges associated with golf, dinner and/or spa add-on services).
General Schedule:
1-6pm Grounds open and available
1:45-2:45pm Bluegrass music with Buddy Dunlap and Company
3-3:30pm Welcome and Capon Overview: 85-Year Story, What's Next , Q & A with Jonathan Bellingham
3:30pm Guided historical building walking tour with Pete Budnyk
5:00pm Chicken BBQ dinner on the golf course (weather permitting)
Add-on with advance reservations:
Golf packages per person: 18 holes with cart: $35    9 holes with cart: $30     9 or 18 holes without cart: $20
All you can eat Chicken BBQ dinner: $20 per adult, $10 ages 5-12, under 5 free
Spa: Rates depend on service. Ask about special 60-minute massage for $85. Details
* If bad weather, back up date is Sunday, April 30th with same schedule and events.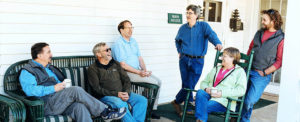 If coming for this day sampler is not enough, reserve a couple of nights over our May 19-21 weekend.  We will be honoring our unique history and showcasing our expanded farm and golf operations.  Reservations.