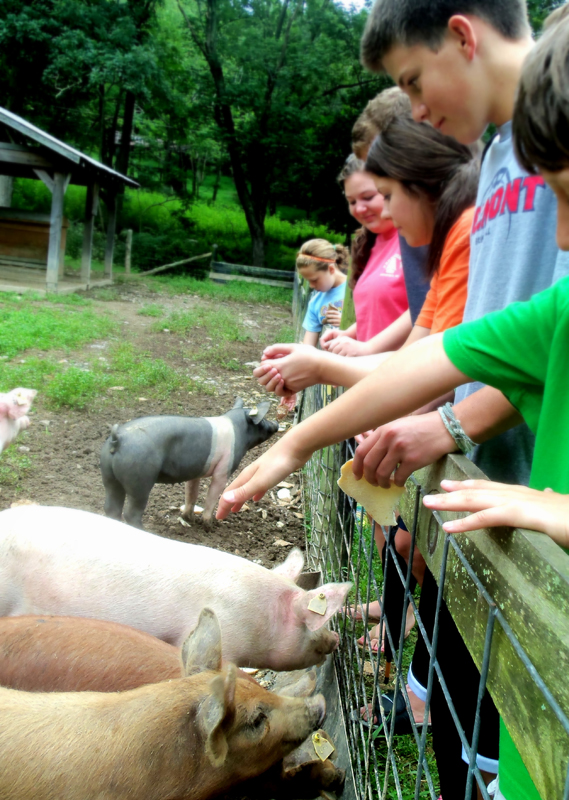 Our farms, RiverMeadow Farm and Hilltop Farm, provide Capon guests with personal, up close livestock experiences, and as much fresh, wholesome food as possible. Networking with other local farms also supplements what's being served in Capon's dining room.
In the 1940s, Capon's farms provided nearly all the resort needed – from fresh vegetables to turkeys to sausage to eggs and most everything in-between. (Of course, back then we had much fewer guests, too!) In our ever-changing world, Capon's farms have had to evolve. Now, although not producing the quantity of food items it once did when farm workers were readily available and regulations were few, the direction of the Farm has shifted to one of being sustainable, eco-friendly and low impact (small footprint).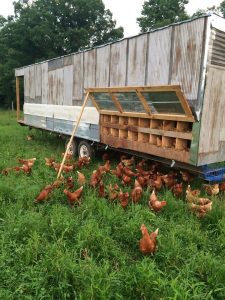 The 2017 season, marks the beginning of a renewed focus on animal production and farm-to-table.  Free-range laying hens, who roost at night in moveable "eggmobiles", provide fresh brown eggs for breakfast. Our newly
expanded hog breeding program met with success and our pastured pigs provide sausage, pork tenderloins, and other pork products. This success led to expanding our cattle operation. Our shaggy, big-horned Scottish Highland cattle are definitely a conversation starter!
Besides delicious food, the Farm also provides direct guest experiences. During the summer months, the hayrides are pulled by a 1952 Oliver Row-Crop tractor.  Weekly pig feedings at Hog Heaven, provide entertainment for everyone – especially when a new litter of piglets arrive! Farm tours can be scheduled, but keep in mind, it's a working farm and tending to the animals and getting work done comes first, so time for a tour may not always be available.
.