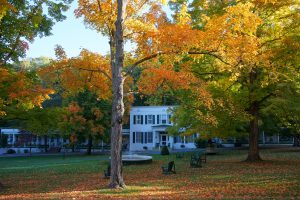 Take a fall escape any time between Sunday, November 3rd through Thursday, November 7th and enjoy the best rates of our season:  $110/person/night!  (Rooms with shared bath are only $95/person/night!)
Come stay one night or all five… there is no two-night minimum required.  Enjoy crisp fall mountain air, roaring fireplaces, fall-inspired desserts like pumpkin pie and baked apples and rejuvenating soaks in our pure spring water hot baths at the Hygeia Bath House & Spa.
Room Availability & Pricing
Stay in one of our 14 wonderful, unique cottages with a variety of accommodations within each one.
Find Your Room