Spa

Pamper yourself with Roman style soaking baths or your personal swimspa pool.  Family nights available when all ages can enjoy these relaxing Capon water treatments.  Reserve soothing massages and reflexology sessions.
---

Golf
We have two very distinct nine hole golf courses for your enjoyment: a regulation and a short par three.  The well groomed layout features tree lined fairways, alternative tees on your second round and no water hazards.
---

Fishing
Try our fishing pond which contains a variety of blue-gill, bass, catfish, trout and a few giant carp. Capon will supply bamboo fishing poles and bait. Decide whether to throw your fish back or, if it is over 8 inches, have your catch cooked for your breakfast by the Capon cooks! No license required!
---

Tennis and Pickleball
Try a game on the clay court or one of two hard-surface courts that have lights for night play. The upper all weather court is also set up for pickleball play. During the busy summer months, in order to reserve a court, you must sign up on the sheet located across from the drinking fountain in the Main Building
---

Swimming
Enjoy a refreshing dip in our spring-fed pool, warmed by the sun or our two smaller pools for the kids. In 2016, Capon won Retreat Central's "Best Swimming Pool in the U.S".  Nothing like a morning dip!
---

Hiking
Explore any of our six different trails for various ages and abilities.  Gorgeous overlooks and peaceful woodland strolls provide a true WV wild and wonderful experience.  Guided nature walks are offered many Saturdays.
Escape Room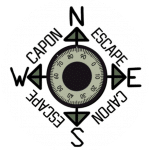 If you like discovering Capon's mysteries and enjoy solving puzzles, then you are ready for our first escape room: "Capon Through Time!"
---

Food & Dining
The homemade, comfort food at Capon is served family or buffet style (with a set weekly menu) and is all-you-can-eat.
---

Other Activities Available
Badminton, frisbee golf, basketball, horse-shoes, croquet, ping pong, shuffleboard, volleyball and indoor puzzles, cards and games. Our small children's and adult libraries have books for all ages and tastes.
---

Caponchase Adventure
Join in this serious code cracking treasure hunt that was introduced in 2008 and sends teams all around Capon to discover secret historical and natural wonders.
---

Do nothing in particular
Catch up on your rest. You'll get a break from doing the cooking and cleaning.  Spend some time relaxing in a hammock or reading on the lawn or by the fireplace.
---

Supervised Children Options
During the summer and weekends, private childcare can be arranged for mornings, afternoons and/or evenings for younger children so adults can have their own alone time. In July and August, kids camp programs are scheduled based on demand.