"Capon Through Time" ~ Capon's First Escape Room!
New in 2021 and available to overnight guests all season long!
If you like discovering Capon's mysteries and enjoy solving puzzles, then you are ready for our first escape room: "Capon Through Time!"  You and your team will assemble in a waiting room for instructions before immersing yourself in Capon's storied past and current play experiences within the 60 minute session. Along the way, you will be using your individual and collective skills to uncover hidden clues, crack codes and solve challenging riddles.  When helpful, hints and tips will be provided by your Gamemaster guide. Each "aha" moment will bring you closer to discovering all the game's secrets.
Enjoy as a couple, a family or group of friends. This new activity is sure to delight and entertain—and you might just learn a new secret about Capon! Ultimately it's an activity that is hard to describe… it must be experienced to be appreciated, much like Capon itself!  See you soon!
~Gamemaster Charlotte
P.S.  We will be asking that you help us keep all encounters within the room a secret so that each new team can start fresh from scratch.
---
The Room: "Capon Through Time"
For hundreds of years, people have been drawn to the mystique of Capon Springs – from the Native peoples, to the early European & American settlers, to the 4th generation families that still come to Capon every year as their own family tradition! What makes Capon so special?  What secrets still lie undiscovered within the lands and legacy of Capon Springs? And what is one of Capon's Greatest Treasures of all?  You and your team will have 60 minutes to solve the puzzles and unravel the mystery of "Capon Through Time!"
View the intro video for "Capon Through Time" here:
---
Basic Booking and Pricing Information:
We expect that in spring and fall, Capon Escape will be available Tuesdays, Fridays and Saturdays.   In the summer, Wednesdays and other times such as evenings could be added based on demand.  We anticipate having four sessions available each day.  In the same manner as the spa, reservation requests are encouraged two weeks ahead of your stay.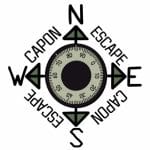 You can request a Capon Escape adventure here, or email escape@caponsprings.net. 
Once your reservation request is received, someone will be back in touch as soon as possible to confirm a slot.  Payment can be made directly at the escape room at the time of use or charges can be added to your room bill.
Pricing is on a sliding scale depending on the number of participants. The ideal group size is FOUR and the maximum is five.  This game is geared to all ages 13 and up, but children 10 and up can participate with a team of adults.
Pricing:
2 people: $29 per person
3 people: $25 per person
4 people: $22 per person
5 people: $20 per person
Location:
Meeting House Room #4
Participant experience level:
Just like our golf courses and our spa, Capon Through Time is designed both for the first time participant and seasoned gamer.
COVID Safety Protocols:
Masks must be worn at all times inside the escape room by guests and co-workers. Participants must wash their hands or use hand sanitizer provided before entering the room.  Gloves will be provided upon request.  There will be at least 60 minutes between sessions to allow for cleaning, room rest and minimal contact between groups.
---
Teaser Trailers:
Intro Trailer:
Follow Up Trailer: