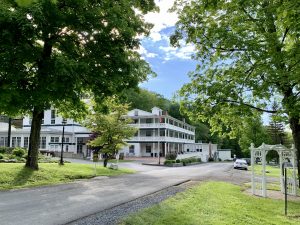 Since CDC removed its universal masking recommendation and considering that Hampshire County's current COVID-19 community level is "low," Capon is not requiring masks for guests or co-workers at this time.  We recommend following the CDC's guidance to wear a mask based on your personal preference, informed by your personal level of risk. We encourage getting fully vaccinated for COVID-19, but do not require vaccinations for co-workers or guests. We held an onsite vaccination clinic at Capon last season and plan to host one again this spring. We will continue to monitor recommendations from our local health department, the CDC and our guest medical panel, and we will update you in the event changes are made to these current protocols.
Before and during your Capon stay, we ask that you please self-monitor for symptoms of COVID-19.  If you have symptoms of COVID-19, please get tested as soon as possible and while waiting for the results, stay away from others. If you are not able to get tested, or test positive for COVID-19, we will be happy to help you reschedule your Capon stay with no cancellation fee.
If you have been in close contact with someone positive for COVID-19 (close contact is less than 6 feet away for 15 minutes or more during a 24 hour period), we ask that you follow the CDC guidelines outlined here.
For those uncomfortable eating in the dining room, you can arrange for a carryout option, but only if used for all meals. We ask that you please let us know at least 24 hours before your arrival if you would like to choose the carryout option by emailing us at reservations@caponsprings.net.
We thank you for your support, encouragement and understanding as we navigated the challenges of the last two years and we look forward to welcoming you home to Capon in 2022!
Room Availability & Pricing
Stay in one of our 14 wonderful, unique cottages with a variety of accommodations within each one.
Find Your Room