2020 will be a year unlike any other in Capon's history.  One of the unexpected joys will be to experience treasured Capon traditions in new ways.  Here are five standouts (in no particular order) that just might make your 2020 Capon visit one of your most memorable!  Give one or all of them a try!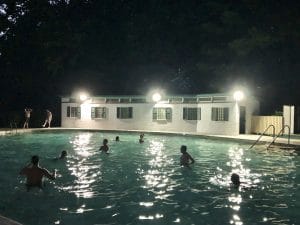 1) Night Swim at the Pool

Even if you don't think a pre-breakfast jump in the Capon pool is the best way to start the day, it is hard to argue that a cooling dip after a full day of outdoor fun isn't a nice way to close out an evening!   On Wednesdays, weather permitting, there will be time periods for various age categories so that groups can have fun together in a safe manner.  Just in time for this season, Bub and Robin Brill completed improved lighting to the pool deck area.
2) Bingo on the Hill 
Talk about a new twist on an long time Capon favorite!  We tried this last year over the 3 day holiday weekends and it was an instant hit.  Since we are up on the hill for Thursday steak dinner anyway, it seemed like a nice way to linger after a great meal with the bonus of an opportunity for a perfect sunset.  Don't know if your chances of winning will be improved, but if they are, as usual great Capon prizes await.  Can't you just hear 0-70 ringing out over those WV hills!  Time to win some homemade cookies!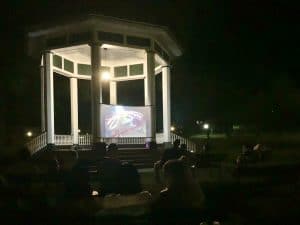 3) Outdoor movies at the Bandstand  
If you came to Capon as a kid back in the 1970s and 1980s you might remember the weekly Disney movie classics shown from big reel to reel in the auditorium.   In the mid 2000s, one summer we tried a few Wallace & Gromit shorts in the campfire circle or up on the hill.  This year, that evening entertainment returns on Friday nights at the Bandstand.   So now you will have a chance to experience a Drive In movie without the car and relax on Capon benches or stretch out on your personal blanket on the lawn.  The rear projection onto to a 7 x 5 foot screen will be supported by a powerful PA sound system.
4) Carry out meals 
No, we are not talking about your traditional Capon box lunches, here.  But being able to take any and all meals to enjoy in various places throughout Capon.  And yes, you will be able to enjoy pretty much the same delicious menu items each day for carry out– including asking for extra and multiple desserts!  We know this will be one of the biggest changes– not having a full communal experience in the dining room this summer.  In its place is an opportunity to take your meal out on the Main porch, on your own porch, down to the fish pond, even up to sunset lodge.  Think of the possibilities!  Operations manager Brian Brill thinks breakfast will be especially popular for families, both with young children and teenagers who may be sleeping in.  This will provide an extra convenience for both parents and young ones alike, with not having to disturb their sleep!   The carryout station will be located in the buffet room, just to the left of the dining room entrance.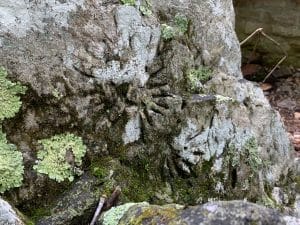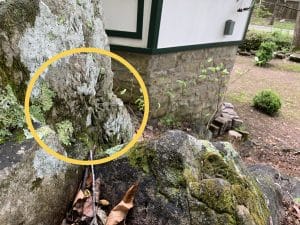 5) Ponder the ancient history of life on earth and the vastness of space.  
Looking for a sign from a previous time?  Check out the Native American petroglyphs (rock carvings) behind The Spring House that we believe were used to mark the location of the Capon spring.   While these sun markings have obviously been around for a very long time, only a recent clearing out of some trees and debris have made them easier for guests to find.
Those who either stay up until dark after a dinner on the Hill, or venture up on any clear evening, can gaze upon the full view of the Milky Way Galaxy from out in the fairway in front of Sunset lodge.  Or for a more private affair, try out the top deck of the golf clubhouse!  Watch and wait for shooting stars- wishes really can come true!  During the day, stroll down to the shale pit by "Hog Heaven" and dig for fossilized oceanic plants and animals from the early formation of our planet. Take a sample treasure home to you show your friends this coolest of souvenirs from you Capon trip.
---
Sometimes its not the new or different experiences we need to try- it's remembering the simple pleasures that are always there for us that we need to rediscover.  Here are a few bonus "must dos" because we just couldn't narrow it down to 5!
Slow down to the rhythm of relaxation and the soothing strolls through nature.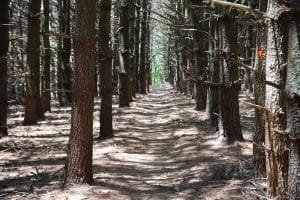 Swing on the "Big Swing" on the lawn.  We recommend this especially if you are over the age of 12.  Grown ups who haven't taken the time for this simple pleasure of childhood in awhile, say it's good for the soul.  Same goes for a rest in one of the many lawn hammocks. Let the sway of the gentle motion and light breeze across your cheek soothe you into a nice afternoon nap.  This is where many a grandparent has rocked themselves to sleep with a toddler resting contentedly on their chest.  For a healthy guided approach to relaxation, join Elli White for Tuesday morning yoga at the Bandstand. 
Our marked nature trails have always been available for individual and group exploration.  Hike to Eagle Rock where the view into the Shenandoah Valley is the sought after prize.  Looking for Narnia? Stroll along the Orange Trail through a cathedral like pine forest. Here the imagination is transported to another world of wonder and awe.  On Wednesday mornings, you can get a deeper appreciation of this natural wonder with a guided walk with Capon's naturalist, Fred Viers. 
Room Availability & Pricing
Stay in one of our 14 wonderful, unique cottages with a variety of accommodations within each one.
Find Your Room