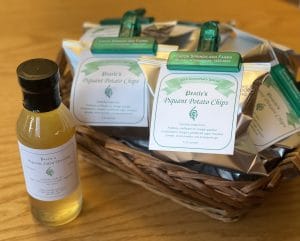 Thanks to a recent collaboration with longtime guest and owner of Route 11 Potato Chips, Sarah Cohen, we will have a small batch of 90th Anniversary Piquant-flavored potato chips available this season! To read the full story on how this came to be, read on!
The Story Behind Piquant Chips:
Piquant Dressing has long been a house favorite with guests, co-workers, and Austin family members. During a co-worker party game last summer, Beth Kinghorn had to come up with an unusual potato chip flavor. Her inspired response was "Pearle's Piquant Dressing!" Seizing on the idea, Austin family member, Jonathan Bellingham approached a guest who could actually make that happen: Sarah Cohen, the owner of Route 11 Potato Chips! Sarah was eager to help, and the ball was rolling to make this 90th Anniversary snack a reality.  The next step was for Food and Beverage Manager, Mark Nicholson, to develop the perfect dry mix recipe. With no shortage of willing taste testers, he was able to recreate the unique piquant flavor. Production was originally set to include multiple batches, however the shortage of sunflower oil due to the war in Ukraine means there will be only one run of this special Capon chip. UPDATE (6/9/22):  Sarah stopped by to let us know there will be another batch of Piquant Chips made as they were able to secure more oil!
Room Availability & Pricing
Stay in one of our 14 wonderful, unique cottages with a variety of accommodations within each one.
Find Your Room