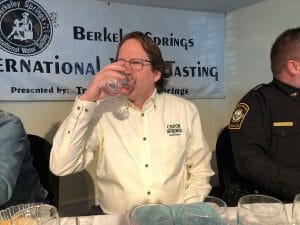 Over the last 30+ years, I've been fortunate to serve as one of the "Faces of Capon".  Mostly this is because I'm responsible for introducing new people as well as running many of the programs they enjoy once they get here.   Not only does that mean I can represent the family in a variety of settings outside of Capon, but I get to see and be seen by many of you during your stay.  And as I hope you have been able to tell, I continue to enjoy doing this very much.  It has enabled me to develop and nurture relationships with so many of you.
This year, I look forward to continuing that role as some family members retire or move to part time status, while experienced co-workers have emerged to carry on the tradition of Capon hospitality.   That means my goal this season will be not only to make sure I'm available to you as guests, but to introduce and support this next generation of leaders.
Speaking of which, I am happy to announce we have another fourth generation family member who is returning to help sustain the Capon legacy.   I have back as my digital content administrator, my niece, Megan Brill James!  (Just as a point of reference, she is Ginny & Eddie's daughter and farmer Sam's sister.)  In particular, I'm looking forward to having her take on some of the creative projects in social media, including Instagram.
Meanwhile, this spring I have been busy building on and finding new ways to share Capon.   For example, many of you responded to the February Facebook post about when I served as a preliminary judge at the International Water Tasting competition.   While there, I met a number of travel writers and even a crew from Netflix who were fascinated with the story of West Virginia's healing waters.  So who knows where these connections can lead!   Still, no matter what tools we use to share the Capon story, the person to person,  word of mouth method will always be best.
Along those lines, we are incorporating guest feedback in a new and creative way with the formation of a Guest Council.  Thanks to the leadership of long time guest Andrew Recinos, we are becoming more organized about including guest suggestions into future Capon enhancements.  Stay tuned for more information about this important step in sustaining the unique Capon experience.
As I look over the 2019 season, I am very optimistic- both in terms of operational transitions and the strength of the bookings so far.  Since 2015 we have had very strong attendance and this year is already ahead of last year's pace.  That being said, there are still openings in every month so don't hesitate to contact us to visit anytime during the season!  We hope you will consider coming for our Spring Fling May 31-June 2 when we will have activities where you can meet some of our new leaders as well as an assortment of Capon family members.  Our Open House, Sunday, May 12, is a great chance to introduce new folks with an afternoon  Capon sampler.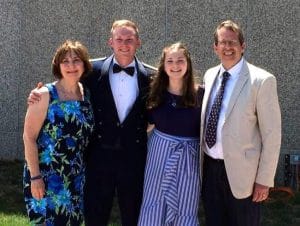 As for my family, this summer Betsy will be taking her usual break from homeschooling Katie  through 10th grade and looks forward to her Capon porch visiting time will so many of you.  Meanwhile, when she is not working at Capon doing private babysitting and assorted tasks, Katie will be attending a 5 day summer intensive musical theater workshop in New York City.  She will be working with cast members of current Broadway musicals, like "Be More Chill", as she learns how to improve her audition and performance skills.
As for Stephen, in late February he started his rotation for basic flight training at Vance Air Force Base in Enid, OK.  This week he transitions from simulators to some real flying time in the T-6, with cruising speeds of 230 mph.   This particular phase lasts until June when he will be assigned the type of air frame to complete this part of his training early next year.
This past Easter weekend was a great pre-opening time for all of us as we celebrated hope and new life.   As the season progresses, I look forward to catching up with you all in big and small ways as we share the restorative effect that time spent at Capon offers everyone.   It reminds me that if we can take a bit of the daily dose of kindness we experience at Capon wherever we go, we can make a dent in making our small corners of the world a better place for all.
Let's chat about it on your next visit, maybe on a porch, on a run, during a morning dip in the pool, round of fling golf or my favorite spot at Capon, a meal on the hill!
Jonathan
Room Availability & Pricing
Stay in one of our 14 wonderful, unique cottages with a variety of accommodations within each one.
Find Your Room