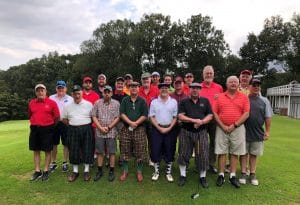 Since its opening in 1936, Capon's 9 hole course has been a place that has generated many guest stories and memories.  None more so than for one group, the Capon Capers golf tournament group, that on the May 3-5, 2019 weekend celebrated the longest streak of returning Capon visits- 70 straight years!
"When those first golfers came here in 1949, they could have had no way of knowing they were starting something that would still be going strong 70 years later," offered this year's tournament chairmen, Kent Nelson.  Kent, who hasn't missed a trip since his first invitation in 2000, is still relatively a rookie compared to the "elders" he honored during his emotional address at their Saturday celebration at Sunset Lodge.  Emceeing the event was Roger Campbell, whose own streak goes back to just about half of those 70 years, and whose two sons have joined the fellowship of 20-30 golfers who make the trip to Capon every spring and fall.   After sharing their appreciation of such a dedicated gathering, members of the Capon family presented the group with specially designed Capon hats, ball markers and golf towels.
As one can imagine, over a period of seven decades a tournament can accumulate quite a collection of trophies, memorabilia and display items.   So when the new addition of the Main was completed in 2012, a suitable location was found to house a portion of it in the new wing of the third floor hallway just outside the elevator.  Photos and other treasured memories are stored both for the Capers group and all guests to enjoy.  Of course, look no further than the golf course itself, which over the years has received back from the Capers numerous donations and enhancements.  They are planning something special in 2019 to mark this year's historic milestone.
Enjoy this video of Roger Campbell presenting the Capon Family with an inscribed silver plate.
Keeping Capon's tradition of word of mouth, you have to be personally invited to attend- and it is not based on your handicap!   Like all referrals, you get introduced to Capon based on your ability to "get" the experience and carry it onward.  (Which, if you think about it, IS the secret to Capon's longevity and return rate of the most guests!)
70 straight years is a long streak… and we are so grateful to this group and honored that Capon has become such a special place for them to return to each year.  Until next year, Capon Capers!
Room Availability & Pricing
Stay in one of our 14 wonderful, unique cottages with a variety of accommodations within each one.
Find Your Room