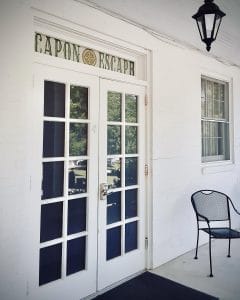 It's the 1-month anniversary of Capon Escape— Capon's escape room! We debuted our first room at the end of May called, "Capon Through Time" which can be enjoyed as a couple, a family or group of friends. The object of this adventure is to use individual and collective skills to uncover hidden clues, crack codes and solve challenging riddles.  Each "aha" moment brings you closer to discovering all the game's secrets. When helpful, hints and tips are provided by your Gamemaster guide.  Here's a little more information about "Capon Through Time":
For hundreds of years, people have been drawn to the mystique of Capon Springs – from the Native peoples, to the early European & American settlers, to the 4th generation families that still come to Capon every year as their own family tradition! What makes Capon so special?  What secrets still lie undiscovered within the lands and legacy of Capon Springs? And what is one of Capon's Greatest Treasures of all?  You and your team will have 60 minutes to solve the puzzles and unravel the mystery of "Capon Through Time!"
We would like to say a giant "Thank You!" for the incredible reception we have received so far.  Many people have asked us how this idea came to be and who is the team behind this new adventure.  So, we thought it would be fun to take a minute and chat with Charlotte, Barbara & Josh!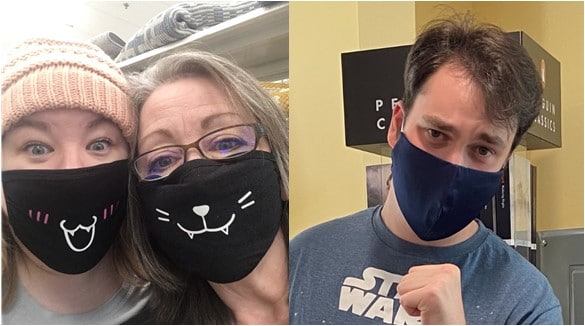 Q: So, how did the idea of Capon Escape come about?
A: It was one of those "Wouldn't it be awesome if…" moments! One fine day, we (Barbara & Charlotte) were sitting at the Fish Pond, discussing what a perfect setting Capon would make for a mystery novel. From there, the ideas just started snowballing!
Q: So, why Capon?
A: One of our lifelong professional dreams has been to create an escape room!  It just happened to be a casual remark in conversation with Jonathan. It was such a surprise to hear that an escape room has been on Jonathan's wish list for quite a while! From that point, with Jonathan's support, we drew up a proposal, crafted a scale model, and got to work.
Q: What kind of background & experience did you bring to the project?
A: Barbara has been an interior decorator for over 15 years, specializing in custom work. Josh has written several mystery novels & short stories, and has experience in writing, filming, and editing videos. Charlotte has been working at Capon in various capacities for 13 seasons. And all 3 of us have worked together many, many times on a ton of creative projects – including podcasts, live performing arts, & interactive mystery dinner theater-style parties!
Q: What things have you drawn on for inspiration?
A: In a word, Capon! Everywhere we turned, we found ideas! The history, the water, the scenery… we are spoiled for choice! One of our favorite facts: all the footage in our teaser trailers & the intro video was filmed at Capon! And we especially enjoyed using the archived footage from 1950s & '60s to create our second trailer! (You can watch all Capon Escape's videos here~just scroll to the bottom.)
All the puzzles & clues in the escape room were inspired by Capon, & many of the props are genuine Capon artifacts!
Q: What has been the most fun/most challenging part of bringing the escape room to life?
A: The best part of experiencing an escape room, is the team you work with. The very same can certainly be said for creating one! We had a fantastic group of people, each contributing the perfect talents to make Capon Escape a success! We'd like to say thank you again to everyone who took part!
The most challenging part happened to be the timing. Sadly, all of us have had some serious personal tragedies to deal with this Spring. However, working on this project has truly allowed us to 'escape' our problems, even for a little while, and we hope it will be the same for our guests!
Q: How many escape rooms have you experienced collectively?
A: Its difficult to say… but definitely in the double digits!
Q: What kind of experience do you hope to create for participants with this escape room?
A: One of the best things about an escape room, is the team you experience it with. We feel the same about creating Capon Escape – we had the best team! We can't say it enough – we feel genuinely privileged to have had the help of so many talented people!
If we can impart even a little bit of the fun & joy we've had on this project, and let our guests be able to enjoy it as well, then we feel like we've made a success!
Q: Are there plans for another Capon escape room in the future?
A: Well, we can't give away too much, we have to keep our secrets! But we are excited to reveal that we already have a theme in mind for the next room… CAPON CLUE!
If you would like to try to unravel the mystery of "Capon Through Time" you can request a booking here, or email escape@caponsprings.net.