Once a year certainly is not often enough to feature Capon Springs water.  I was prompted to share again after several guests informed us that the NY Times and CBS Morning Show both produced stories about the resurgence of "live water".  Seems that once again, "what was old is now new again."  We received an inspiring email from a Capon guest who was diagnosed with stage 3/4 ovarian cancer last year.  She informed us that along with a positive attitude and great doctors, Capon water was one of the reasons she is now in complete remission.  While this seems fantastical causing skepticism for some, Capon water does have a long track record of similar testimonials.   Time will tell how future water enthusiasts may be able to benefit from this liquid elixir.  This March, the Shenandoah Valley Travel Association guide will include a "Did You Know" feature about Capon water used by two US Olympic Teams and the US Congress.
For those of you who have never attended the regular Capon Spring House tour, below is part of the story I share each week in season: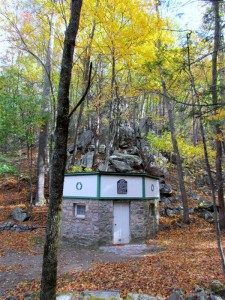 "If you use your imagination, you can picture Capon water flowing into the creek, which flows into the Capon River, which flows into the Potomac, which flows into the Atlantic.  In that sense, Capon water really is everywhere!"
I have shared that observation during the Spring House tour every Saturday of the Capon season over the last 25+ years, so it is easy to forget the mystery of the water itself and how those of us who have benefited from it over the years are connected.
One wonders… when Henry Frye (the first known European to discover the Spring) filled his thirst in 1765 after a day of hunting bear, did he have any idea that one day it would be a watering hole of presidents and military leaders, or part of the debt to settle a war between a country that hadn't even been formed?  Could he have ever considered that two American Olympic Teams would drink Capon Water exclusively?  Or, that someone like me would someday be enjoying my morning pool dips, post run hydrations or relaxing hot soaks at the Spa?
Certainly from personal experience, Frye might have been able to envision it becoming a prescribed medicine; after all, his wife was restored to health after she consumed it. Though he did not have the means to do it at the time, it would not have been that far-fetched to dream that 150 years after they first sipped Capon water, it would be prized as a bottled product delivered to home and office.
I certainly remain amazed about how our own family entered the story when our grandfather got into the water distribution business in 1928.  That led to the purchase of the spring, and eventually the resurrecting of the resort.  After his failed efforts to make a go of the bottling business, the water became the life-blood of the resort.  Now many come to fill up their containers so they can continue Henry Frye's efforts to maintain good health for their families.  Guests still tell us stories of how the water has restored them to a better quality of living.  My own experiences support their testimony.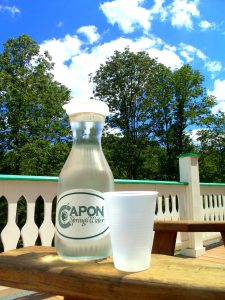 When I think about the hydrologic cycle itself, I realize that those of us who partake of this precious liquid are tied both to our predecessors and our descendants in a very concrete way.  For in the process of the water flowing, past meets present and future.  Consider for a moment that the spring water coming to the surface now first came down as rain many decades ago.  So whether we drink, soak or bathe with it, we could be experiencing the same water that our grandparents watched come down on a lazy September afternoon back in the 1940s when they were our age.  Likewise, the thundershower that got us wet recently is the same substance our great grandkids could be splashing about in the kiddie pool someday.  There is great comfort in the contemplation of that connection.
Thus, the water's healing power continues from generation to generation…  drink up!
Room Availability & Pricing
Stay in one of our 14 wonderful, unique cottages with a variety of accommodations within each one.
Find Your Room