We are bringing you a blog post today from long-time guest, Ann Sanders.  Ann writes about her history of coming to Capon and her recent journey to restore Capon's carriage.  Take it away, Ann!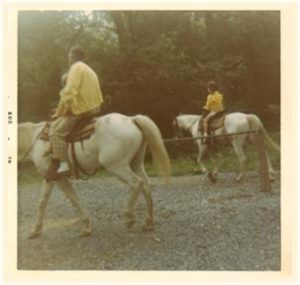 "I started coming to Capon with my parents in 1964 (first August week), and it is here that my life-long love of horses began. As a child, I couldn't wait to get to the signup sheet in the Main House each morning to put my name down for horseback riding that day. I think I would have signed up for every slot, if my mom hadn't said once a day was enough! (Photo of Ann-on right- at Capon in August 1970.)
Since then, I have always been involved with horses, but my love of driving started about 16 years ago. I drive mostly for recreation, but I also compete, train, and give lessons. And I am passionate about education. I feel that honoring the contribution of both horse and carriage to our country's history is so important! I am certified with the Carriage Association of America in Level I Driving Proficiency and Road Safety and am a long-standing member of the American Driving Society and the United States Equine Federation.
I remember being fascinated by Capon's two carriages from the day I first saw them stored in the old log cabin (before it was restored). In the late 1970s, the salvageable parts of the two carriages were used to create the one. The "carriage" is actually a "wagon" in the style of a Traditional Mountain or Democrat wagon. It was one of several built in Cortland, NY, in the 1870s to carry Mountain House guests from the Capon Road Depot in Strasburg, VA, over the Great North Mountain to the resort. A cart carrying the guests' baggage would have been towed along behind the carriage.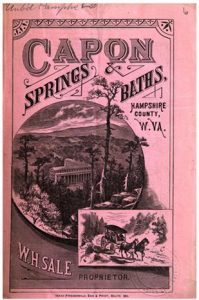 We started the restoration by completely dismantling the carriage and surrey top to look for any parts that were structurally unsound. Many parts of the carriage are original to the 1870s and some are from the late 1970s restoration. The wood in the original steel-rimmed wheels was too compromised and would not have held up under weight and use, so they were replaced by solid oak wheels with rubber trim, handcrafted by a Mennonite wheelwright, who also made the custom shafts to fit the horse. Originally, the carriage would have been pulled by a team of horses, as shown on the cover of the brochure. Once the carriage parts were checked, fixed, and/or replaced, we began the slow and careful process of painting, upholstering, and putting it all back together. I'm so grateful for my husband, Troy, who spent countless hours working with me on the restoration.
Micky Finn will be pulling the carriage this season. He is a 19-year-old registered Gypsy Vanner draft horse from Ireland, and he weighs approximately 1,400 pounds. The breed is relatively new to the United States, only having been imported beginning around 1976. He is a sweet, big, lovable goofball, who lives on our farm in Emmitsburg, Maryland, with two Miniature Horses (who also drive). Micky has been a wonderful ambassador for carriage driving, having participated in demonstrations, trainings, at Expos, and as a lesson horse. I also take him to visit youth at a Maryland state juvenile detention center.
Capon has always been so very special to me, where I always feel at home. It is where I come to relax, reconnect with old friends and make new ones, and to take a deep breath and ground myself again. The carriage is a wonderful new chapter here for me. I'm honored that Micky Finn and I are able to share the history of the Capon carriage and relive its glory days. I am working on a scrapbook of information, history, and photos of the carriage restoration, which will be available to anyone who would like to learn more. And, of course, I am always happy to answer any questions! We plan to be here once a month throughout the whole season, so watch for date announcements."
Join us this Saturday, June 1st, for the Capon Springs Fling and take a ride in this special carriage!
More details and to register here!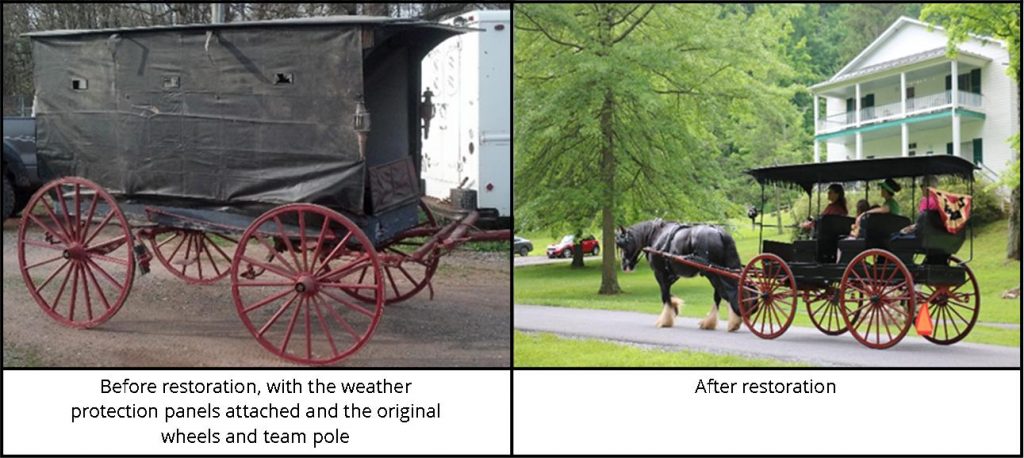 Photo credits: Melissa Clabaugh
Room Availability & Pricing
Stay in one of our 14 wonderful, unique cottages with a variety of accommodations within each one.
Find Your Room