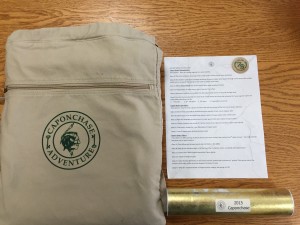 Caponchase (our "Da Vinci Code" style, multi-player adventure treasure hunt game) has been a staple for many families since it first was introduced in 2007 for Capon's 75th anniversary.  It has evolved over the years as both 3rd generation family members Jonathan Bellingham and Tom Austin have taken turns with creating new annual versions.  For 2016, Tom is back at the helm with a family-friendly acrostic style code.
Over the winter, Capon was approached by WV Executive magazine for a feature about Caponchase after their research determined it to be one of the top 10 WV resort activities.  Here is our portion of the just published article compiled by Jennifer Jett Prezkop:
"Whether your next stay is work or leisure, bring the family and explore West Virginia's resorts that rock.
Caponchase Adventure
When you get away to Capon Springs & Farms, a 4,700-acre historic mountain
resort in the Potomac Highlands, you have the unique opportunity to try the Caponchase Adventure, a code-cracking, immersive multi-player adventure game. A combination treasure hunt and history puzzle with elements reminiscent of "The Da Vinci Code," Caponchase was an instant hit when first introduced in 2007.
To begin the quest, teams of four to six members receive a worksheet and copies of the adventure's rules and clues. Teams then disperse to seek, sleuth and solve while exploring some of the unusual, hidden and surprising gems around the resort grounds. Challenging but solvable, each clue leads you closer to completing the adventure and finishing the game. Designed for ages 13 and up, the Caponchase Adventure is especially popular with multigenerational family reunions and group teambuilding retreats.
Capon Springs & Farms' idyllic woodland setting, centuries-old history and time-honored traditions make it the perfect site to stage this one-of-a-kind activity. While general resort knowledge is helpful, participants thrive when they work together using math, creative thinking and problem solving skills. The game itself is completely self-directed so it can be initiated and completed at any time. When several teams are involved in a competitive environment, an official start and stop time is designated for the quest.
To keep the game fresh and challenging, each year one of the third-generation resort owners develops a new edition of Caponchase Adventure. So come with your family, friends or coworkers and jump into the 2016 version of this unique search and decipher game."
WV executive magazine can be found in hotels, resorts and doctors' offices all over West Virginia.  Read the full article here.
Room Availability & Pricing
Stay in one of our 14 wonderful, unique cottages with a variety of accommodations within each one.
Find Your Room