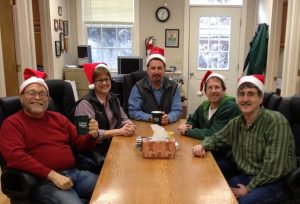 Ginny and I have settled back at home in Stephens City after spending the summer at Capon.  We, as all of you, are now busy getting ready for all the family festivities that are coming in the next few days.  Every year on the 24th of December Ginny, Sam, Megan, Brian, Everett and I spend the evening with my two brothers and one sister and their families,  27 adults and 22 kids for a total of 49 people.  We are so big we have to rent out a church fellowship hall to hold all of us.  We all have a great time, visiting,  playing games and having a meal together.   This is the only time we are all together.  My parents John and Katherine who also spent their careers at Capon and got to know many of you over the years, started our tradition on the 24th of December many years ago.  They are both gone now but this is a very special time for us and we will continue to do this for as long as we can.
Ginny and I plan on spending some time away after the first of the year on some short trips we have been wanting to take.  This year we will also be awaiting the arrival of our second grandchild, a granddaughter, sometime in late March.  I have been spending time one day a week with our grandson, Everett, since he was born. I would not trade that time in getting to know him for anything.  I am sure all you grandparents out there know how special this is!
Many of you probably think we don't spend much time at Capon during the winter but Ginny, Tom, Jonathan, Phil, Sam, and I, along with many of our dedicated co-workers you have gotten to know over the years, spend 3,  4 to 5 day a week there if we are not traveling.  So feel free to give us a call to either make a reservation or just to talk.   There is a lot of planning that takes place during the winter.  Between maintenance projects, confirmation mailings, hiring plans, preparing for the 2018 season, and  training new people- we have a lot of new people that will be taking our places as we look into slowing down in the near future, and planning for the future of Capon.  There is a lot of time spent because we all love it so much.  The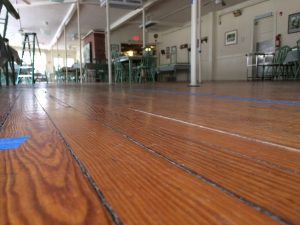 maintenance projects for this winter are contained to just catch up projects.  For example, the dining room floor may be a little more level than before, the key word here is more level, repairs to the front porch floor, and safety is also a major focus so hopefully you will not even notice some of what will be done.
We have closed the door on our 85th season.  With all the water out of the pipes, heat turned off, and all the doors locked we focus our time now on family and friends like you.  We want to thank everyone that visited us during our 85th season (which was one of the top five for numbers of guests for the year).  We are very thankful for you as we have gotten to know you over the years.  We wish everyone a safe and happy holiday season.  I hope to see you in 2018.
Eddie
Room Availability & Pricing
Stay in one of our 14 wonderful, unique cottages with a variety of accommodations within each one.
Find Your Room