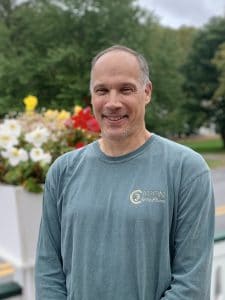 Dear Capon Friends,
The leaves have changed and the peak colors have passed as we reach the end of our 90th anniversary season. Thank you to everyone who joined us in 2022 and helped us celebrate this historic milestone.  This season was also marked with some memorable firsts:  opening the spa year-round, the addition of Capon Clue escape room, Pearle's Piquant Potato Chips and beer made with Capon water.  It was a great joy to see so many familiar faces return this year, as well as the many new faces that will now call Capon their home away from home.
As I reflect on the 2022 season, I am most proud of and grateful for our co-workers who worked tirelessly from Easter weekend to November 6 to give you the best Capon experience they could.  This season was another challenging one with staffing shortages in key departments.  So many of our co-workers went above and beyond, working extra shifts and extra hours to cover the shortages.  Without them, this season wouldn't have been possible.
Coming up the next two weekends, November 11-13 and 18-20, there will be special opportunities for you to experience more Capon fun.  Our two escape rooms, golf courses and meeting spaces will be OPEN for day use at 20% off regular rates!  (Please note that during these special events, our lodging, food service, spa, grounds and basic recreational operations–including hiking trails–will be closed.) To learn more about these opportunities, including how to book, please visit our website.
I also wanted to share the great news that the spa will be open again this off season for day visitors, beginning Saturday, Dec. 3!  We will be holding a special open house sampler event that weekend so stay tuned for more details soon.
Now that the off-season has arrived, we start to plan for next year to improve our delivery of the treasured Capon experience.  The guest feedback surveys you completed will be the driving force guiding our work and we will be sharing more about lessons learned from 2022 and our plans for improvement in the coming months. The entire Capon family looks forward to seeing all of you back at Capon again next year.  Until then, take care and please keep in touch.
Mike Stover
General Manager
Room Availability & Pricing
Stay in one of our 14 wonderful, unique cottages with a variety of accommodations within each one.
Find Your Room