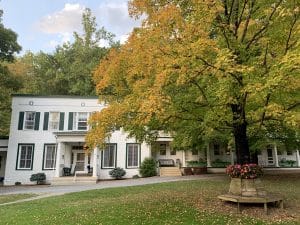 Late summer/early fall is a particularly magical time to experience a vintage vacation at our all-inclusive historic resort.  Here are our top five reasons why:
1) The Natural Beauty ~ The natural beauty of West Virginia shines through in the early autumn light.  The trees are just beginning their transformation and the first bursts of color can be enjoyed.
2) Great Hiking Weather ~ It's one of the best times to hike with the cooler temperatures. Explore and enjoy Capon's mountains and valleys on any of our six different trails for various ages and abilities.
3) Pure Spring Water Soaking Baths ~ After an invigorating hike in the cooler air, nothing feels better than slipping into a hot, relaxing pure Capon Springs Water soaking tub at our Hygeia Bath House & Spa.  Our private baths were modeled after the original brick style baths from Capon's "old resort days" of the 1800s.  Since that time, people have traveled here for healing relief from pain and stress.
4) Beautiful Fireplaces ~ On cool mornings and evenings, cozy up with a good book by the fire in one of the Main House living rooms or at the Hygeia Bath House & Spa.  A blazing fire eases the mind and soothes the soul.  An unhurried day is made more relaxing with the warmth of a living room hearth.  (Note:  A mask is required inside the Main House and Spa.)
5) Best Rates ~ Saving is always good!  After Labor Day, stay with us Sun, Mon, Tues and/or Wed nights in September and enjoy $119/person/night!
Room Availability & Pricing
Stay in one of our 14 wonderful, unique cottages with a variety of accommodations within each one.
Find Your Room