I'm not sure where the winter went… We really didn't even have a good size snow fall and now Mother Nature is still trying to make up her mind it seems. Beautiful blue sunny 80-degree weather one day and then in the 40's and 50's the next, cold and rainy. Actually, that is sort of how I am feeling! I really would love to have a little more "down time" but… Spring is my favorite season. There's nothing like that "new green" of trees leafing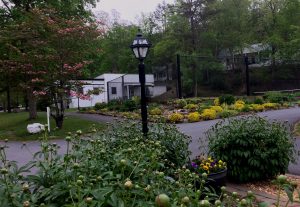 out, the grass is so green and fresh — I think cut grass even smells better in the spring!  Then you add in the redbud and the dogwoods and all the emerging green shoots of the perennials in the gardens and the flower buds on the peonies…. Capon is SO beautiful now.  How could it not draw me in, inspire me and get me at least a little energized for the start of a new Capon season??!
And speaking of the start of the season…. We've had a couple of weekends to help us get the kinks out and gear up… First with Easter and an almost full house. It was a wonderful weekend full of familiar faces sprinkled generously with new faces as well. And you can be sure, I shook things up a bit menu-wise! We ended the weekend with a yummy Easter morning breakfast buffet. The kitchen out-did themselves, proving that not only are they great at the traditional week to week offerings but they were up for the challenge of lots of delicious NEW things!
The next weekend brought a wedding and Mother Nature chose not to co-operate. It turned into one of those cold and rainy weekends. So since the ceremony had been planned for the bandstand and the reception planned for the Lodge, we had to come up with Plan B:  have the ceremony at the Lodge (with fireplaces lit and the green campfire benches all lined up in the center section) and the reception in the Meeting House!  It was beautiful. You would not have recognized the auditorium! And with lots of dancing and partying into the wee hours… a good time was had by all.
The last weekend in April was "taken over" by a large church group from northern Virginia. Lots of active young singles and families with energetic kids (close to 70 kids under 12!)  The weather cooperated for them, allowing their free time Saturday afternoon to be filled with lots of fun outdoor activities.  After they left Sunday, we rolled into our 85th Anniversary Community Open House! Originally scheduled for the previous weekend… (see the paragraph above for the weather conditions that weekend!), we kept our fingers crossed that Mother Nature would treat us a little better this time….and she did!  The rain stayed away and it was a mostly sunny and warm afternoon. We had a great turnout. Lots of new faces from the community and our co-workers prepared a delicious chicken BBQ for all to enjoy.  We ended the evening by honoring 6 of our longtime co-workers.
So now, right around the corner is the "official" opening day…. Which brings me full circle to the opening paragraph!  I'm still not completely ready! 😊  The winter slipped by without any big trips; it was a mostly stay at home kind of winter.  In January, I celebrated my 60th birthday! Can I really be that old????  We stretched the celebration out with two events: First, we all went to an Escape Room and it was a blast! I want to go again! Jonathan, Betsy and Katie came too and even Everett was "locked in" with us! If you have never been to one and you get the chance – do it!  And then in February, we rented a really neat cabin in Canaan Valley, WV for a long weekend. We had hoped to do some skiing and tubing…but no snow! We did visit Blackwater Falls while we were there. So that trip (with Megan, Brian, Everett, Sam, Eddie, Leonard and Dover — the kids' dogs!) helped me check off a couple items on my list of "neat places in West Virginia I want to visit someday".  Eddie and I even stayed an extra day so we could drive to Spruce Knob, the highest point in WV.  It was a great get-away!
Well as usual, I have rambled on more than long enough! I hope this finds everyone healthy and in good spirits… Maybe you can find time to slip away for a day or two. Come fill up on Capon water and sit in one of the Front Porch rockers and enjoy Spring happening at Capon.
Room Availability & Pricing
Stay in one of our 14 wonderful, unique cottages with a variety of accommodations within each one.
Find Your Room