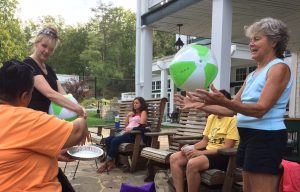 Designed for grandparents and grandkids, these fun interactive sessions bring the kid out in all of us.  Come immerse yourself in the freedom of outdoor play at Capon, where you CAN go back to your childhood and re-experience those happy carefree moments again.
Sunday, June 11, 2017, 7:30-8:30pm
Come chat & play with the Play Ladies
Pat and Cherwanda will share how they inspire their community to play. At 8pm join them for Hide-and-seek. This game is for people of all ages and should not be missed by anyone.
Monday, June 12, 2017, 10-11:30am
Good Dog Badminton* and Mud Pie Making Awaits You
Come one, come all and cheer on folks who participate in Good Dog Badminton. When everyone has had a turn, laughed till their stomach ached we will head to the creek behind the playground to make our own special mud pies. Be prepared to have fun and get dirty.
Monday, June 12, 2017, 3-4:30pm
Lawn Fun For All
Try jumbo versions of your favorite parlor games like Jenga and Yahtzee.  Or try something new like the Scandinavian throwing game Kube.  Do you like Frisbees?  Then you will enjoy Capon's new family friendly 9-hole Disc golf course.  (Be prepared to walk up a short but steep hill.)
Monday, June 12, 2017, 7:30-8:30pm
After dinner on the hill join the Play Ladies for festival games like relay races, parachute fun and "Pull of Peace".
Tuesday, June 13, 2017, 9:30-10:30am
Take a walk on the wild side
Join the Play Ladies for an adventure walk past the pond, through the woods and off to find the pigs, horned Scottish Highland cows and hidden fossils. Leave with some ancient treasures.
Room Availability & Pricing
Stay in one of our 14 wonderful, unique cottages with a variety of accommodations within each one.
Find Your Room