On April 16th, we sent an email to our guests inviting them to enter their loved ones who have been serving on the front lines of the coronavirus pandemic into a raffle drawing for a complimentary Capon stay and to receive a small gift from us.  We were able to send each front line hero a Hygeia Bath House & Spa soaking bath salt packet made right here in West Virginia, so that they could receive some immediate stress relief.
After receiving about 240 entries by May 1st, we pulled three names "out of hat" to offer three two night stays for two at Capon during the 2020 or 2021 season.  After informing the winners of the good news, they graciously agreed to share a bit of their background and COVID-19 experience.  Here are their stories in their own words:
 Emmett Moloney, BSR, submitted by Carolyn Offutt
"Thank you for letting my wife Elizabeth know that I had won the drawing. Here's a little bit about me:
I am a Registered Nurse and Clinical Supervisor in the Emergency Department at The George Washington University Hospital in Washington D.C. I became a nurse after leaving active duty service as an Infantryman in the U.S. Army Honor Guard. Working in critical care and emergency medicine is an incredible challenge, and my wife, son, and I deeply appreciate your support during these difficult times."
---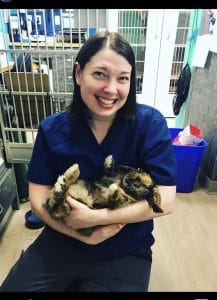 Cathy Collier, submitted by Elisabeth Simpson
I'm a Veterinary Technician currently working in Maryland and Virginia. I've worked with dogs and cats but specialize in exotics as well. Currently clients are not allowed inside the practice so for each appointment we have to go up a flight of stairs to pick up patients from the car. The spring weather has made it difficult; trying to juggle a bird in a cage, medications and an umbrella. For critically ill patients it has been difficult to not be able to offer the emotional support to the clients as we normally have. All exams and surgeries are emergency only as guidelines restrict what we are allowed to see. This means all the patients we have seen since the start of Covid-19 are sick in one way or another. It has been hard, but for most clients their pet is their greatest comfort during quarantine.  Knowing we are able to provide patients with the care and medicine they need to keep them alive makes it all worth it. We may not provide medical care for humans, but knowing we can help their pets in turn provides people with the mental and emotional support needed by so many during these trying times!
---
 Alyssa Leimberger, submitted by Mike & Caroline Walters Family
Thank you so much! This is so kind, generous and unexpected. The Walters have shared their love for Capon for years and my husband and I are excited to have the opportunity to come experience it for ourselves!  I have been a nurse for 26 years and work at a hospital in Richmond, Virginia. It's hard to describe what it's been like working through the COVID 19 pandemic. While the rest of the world slowed down ours shifted into full gear. It has been inspiring to see the incredible grit and dedication of my coworkers.  It has been heartbreaking for our patients and their families who have to be separated during such difficult times, and it has been encouraging to see the outpouring of love, support and recognition from our communities through meals, cards, signs and opportunities like this one!  Thank you again for your generosity and I look forward to coming to Capon soon!"
---
Congratulations to our winners!  We look forward to welcoming them to Capon during the 2020 or 2021 season.
Room Availability & Pricing
Stay in one of our 14 wonderful, unique cottages with a variety of accommodations within each one.
Find Your Room