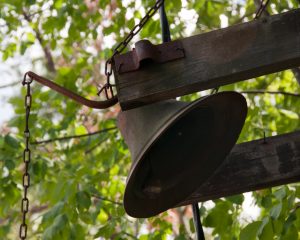 As Capon celebrates its 85th anniversary season, Capon guest Sue Dietterle marks her 60th straight year of visits.  But because she has been living so far away, she still gets nostalgic for some Capon comfort.  So she recorded and converted the Capon dinner bell into a ring tone.  Now every time she receives a phone call, she gets a little taste of Capon (or rather gets her taste buds ready for Capon!)
Another Capon guest thought that was such a great idea, he wanted everyone to have that opportunity.  So Andy Leer figured out the easiest way for both iPhone and Android users to also load the Capon Spring Dinner Bell on their phones.
Just follow these instructions.  And if you get stuck, just contact your cell phone provider and they can assist you.  Third generation family member Jonathan Bellingham did it- so now he hears the Capon bell ringing every time you call!
For iPhone ($1.29):
Go to the "iTunes Store" on your phone.
Search for "Capon Springs Dinner Bell".
Click purchase.
It will prompt you if you'd like to make it your default ringtone.
Otherwise go into "Settings->Sounds->Ringtones" and select it from the list
You can also set this for text messages or other system sounds
For Android (Free) :
On your Phone go to this link http://bit.ly/2en48Lt
Click on the download link in the top right corner and choose "Direct Download"
The .mp3 file will be downloaded to your phone
Go to the Google Play or App store and download the "Ringtone Maker" App
Open the app and click on the 3 dots to the right of the File Name "Capon Bell Ringtone"
Click Make "Default Ringtone"