Art at the Springs: Paint Party!
Friday, June 7th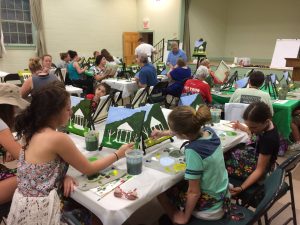 Join us for fried chicken dinner and an evening of art at our historic, family owned and operated WV mountain resort located just 40 minutes west of Winchester, VA. Our country classic all you can eat feast includes mashed potatoes, shrimp casserole, green beans and delicious desserts. Immediately after the meal you'll stroll to the auditorium for the follow along painting that anyone can do, led by Kelly Walker from The Studio: A Place for Learning." No experience required.
Pricing: $49 for dinner & paint party
Advance reservations required.
Room Availability & Pricing
Stay in one of our 14 wonderful, unique cottages with a variety of accommodations within each one.
Find Your Room