The Log Cabin was originally the home of a night watchman for the Mountain House, John Ward. The cabin's condition was described as "impossible" by one engineer around the time that Lou Austin purchased the property. However, Capon's founder had other ideas for the building. He had a new roof put on the cabin and initially used it to store old carriages from the days of the Mountain House.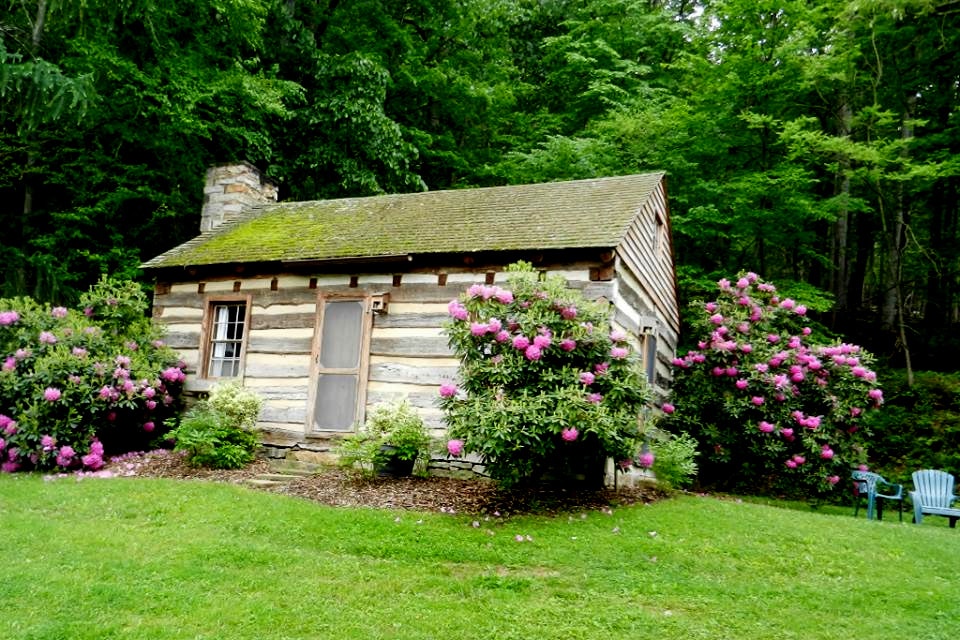 Then in 1981, the cabin was dismantled. Piece by piece, from 1981 and 1984, it was reconstructed by Junior Dunlap's crew. Maintenance manager, Pete Budnyk, who had researched early cabins, supervised the construction. Some of the original logs were still in good enough condition and reused. Others were salvaged from an old barn on Capon's property. The remainder of the logs were hand-hewn from oak trees in the woods behind the cabin, as the pioneers would have done. They were then corner-notched and the spaces between the logs were filled with mortar.
Stones from the crumbling chimneys were used to construct the foundation and to rebuild the "new" cabin's chimney. Pete strived to ensure that the cabin had as much authentic detail as possible, including using a string latch on the front door. Rebuilt as a "museum", the cabin includes furniture recovered from the Mountain House that Pete had spent hours refinishing – a bed and wardrobe, washstand, bureau, and towel rack. Guests were charmed by the cabin during Pete's guided tours, and soon began asking to stay there. In 1989, Capon crews built an unobtrusive bathroom addition on the rear, and added non-historic, but not exactly modern, screen doors. The Log Cabin is now a favorite place for many guests to stay. The Cabin includes one bedroom and one bathroom and can hold a maximum of two people.
Guest Reviews
"We like the privacy of the Log Cabin. We can go outside and play the guitar and not disturb anyone. In the colder months, we like to go inside by the fireplace. We also like it because we are near the Meeting House, just in case we need to do something!" – Will S., Clarksville, MD
"We loved the cabin on our 1st trip there with the wife. Her family has been attending your slice of Heaven for ages." – Patrick S., Catasauqua, PA
Room Availability & Pricing
Stay in one of our 14 wonderful, unique cottages with a variety of accommodations within each one.
Find Your Room