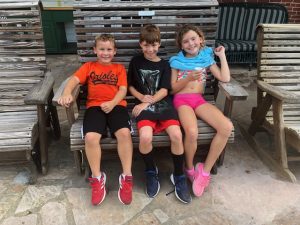 Today we bring you a blog post from a first time guest, Jerry Henderson, who brought her three grandchildren to experience the magic of Capon for several days in late June:
"I often hear people refer to "best kept secrets" when describing West Virginia destinations. I now know the value of such a descriptive phrase. Just recently we sought to introduce our grandchildren, Austin, Sienna, and Quinn to a more simple, quieter and meaningful vacation.
We quickly discounted the usual spots like Charleston, Wheeling and Parkersburg, with their historic past. While asking friends, one mentioned Capon Springs and Farms. Not recognizing the name, I went to their website at www.caponsprings.net  where I learned of  a family owned mountain resort in Capon Springs , WV.
As I read, excitement grew as I learned the farm began in 1932 and has remained in the same family ever since.  Intrigued, I made our reservation. As we were picking up the children I had the task of breaking the news that there would be no TV, tech toy activity, Ipads, cell phones, and WiFi. We were going back decades in time.  After the grumblings and whining subsided, we got underway.
Just a couple hours later we arrived at a lonely unsigned entrance. Turning in, the view changed as the trees became a forest, the motor sounds quieted as the birds were chirping all around us and the sunlight dimmed as the tree limbs bent down over the car. At the end of the gravel road, we exited into a scene from yester year.
Cars were parked discretely off the main road as everyone was walking without a care along well kept green space punctuated with beautiful flower gardens. All buildings were pristine white, many sporting their 19th century architectural details like columns, wide porches, and decorative banisters.
We saw many children running freely as they played shuffleboard, badminton, croquet, and pickleball -all games unknown to our 10, 8, and 5 year olds. They peered out the window and uttered to each other "what's that?" Soon after registration, they found the pleasure to be had as strangers playing the games welcomed our family to join.
Before the old bell sounded for lunch we had tired ourselves out. Lunch was served in the dining hall where we found gingham colored table cloths and a sign, "Welcome Henderson Family." I laughed as  Sienna told her brothers, " we must be important.", only to be confronted by Austin who stated truthfully, " Sienna, everyone is important — there are signs on everyone's table." I giggled!
Following the family style served lunch we went to our "home" where we took over the entire downstairs with new neighbors living above us in separate quarters. It's hard to believe, but we never saw any of the occupants during our 3 day stay. I guess they were as busy as our family. As active and exciting as our morning had been, the kids readily and, to my amazement, agreed to lie down for a rest, and naps continued to happen each day after lunch.
As they fell asleep I returned to my adjoining room to find my husband, Bruce, fast asleep on our bed. I tip-toed outside onto the front porch where a rocking chair provided the perfect place to finish reading a brochure. Wish I could remember all the details to relate to you but as nature would have it, the gentle breeze lulled me into a nap of my own.
Everyone awoke and we decided to take a walk around the area. We didn't get to the bottom of the path, until Quinn yelled "Mamaw, look! a play house, a ping pong house, and a game house and, and " before he ran out of breath. And yes, there were entire little houses for the sole purpose of entertaining young ones – and none tethered to any electrical outlet! We spent 4 hours enjoying these little houses of pleasure.
Being summoned to the dining hall by the ringing of the bell, we again ate as a family and actually exchanged ideas of what to do later, while reviewing all the new experiences we had enjoyed. Our attention was interrupted only by attentive wait staff bringing child friendly additions to our table.
Following dinner, we gathered the bamboo fishing rods and packaged stale bread supplied by the front desk manager and headed off to the nearby pond. With great surprise, Sienna caught three fish, Austin caught one, husband caught two and little Quinn hooked a very large snapping turtle.  All were returned to the pond; however, the fish stories of that day and the reputation of the bamboo fishing poles will live on forever.
Our two remaining days at this wonderful "best kept secret", proved no less enjoyable as mamaw and papaw became fountains of information on kick-the-can, snipe hunting and the headless horseman.
If you are looking for a vacation spot with excellent food, clean, comfortable lodging, family activities and opportunity to really connect as a family, I can't recommend enough Capon Springs and Farm. Last words from Quinn when he went to meet his parents for their trip home to North Carolina were "when can we go back to West Virginia?" I giggled!"