Since everyone these days has a cell phone, you would think we would all understand how important it is keep things charged.  I can't tell you how many times I didn't plan ahead and my phone died when I needed it.   Very frustrating, right?  Now, instead of your phone think about what happens to your body, mind and spirit when its needs for recharging aren't met.  What makes this subject ironic to me is that the very same device that we count on being charged, is a significant factor that prevents us from being fully recharged.  This notion of the need for recharge has come into focus for me over the last couple of months, as I keep running into it from a variety of sources.   All of which has reminded me of Capon's role as a powerful antidote to today's version of this common malady.
The first encounter with the need for recharge came late last Fall when Capon had the opportunity to honor WV Living Magazine's 2016 50 Wonder Women*.  We honored these outstanding leaders with a complimentary night's stay at Capon.   In doing so, we validated the truth that in order to take care of others, you have to first take care of yourself.   This gesture also fulfilled Capon Founder Lou Austin's vision to provide a safe haven for "recharging" so leaders could then go out and do more great work.
*One of these amazing ladies includes Katherine Johnson, the leading "Hidden Figures" dramatized in the recent popular movie.
Next, the message was presented loud and clear at a Virginia business conference in December.  The title of the keynote address (and accompanied autograph book) was "Recharge".   The speaker, Dr. Heidi Hanna, outlined the latest integrative research on the brain's need for recovery.  She provided practical ways to create energy balance with simple daily routine tweaks.  Of course, one of the elements was managing and reducing our digital connectivity.  This encounter furthered my shift in understanding of  why people report such refreshment from an "unplugged" Capon stay and how that experience is even more needed in the world today.
That point was hammered home just this week by a high school student, Lucy Ham of Raleigh, NC.  In the school speech she shared on Facebook, she explained how that the lack of connectivity leads to deeper relationships and a refreshed experience.  She concludes this way:
"I have a phone and two computers. I am addicted to Netflix – I've watched the entire Gossip Girl series twice and am currently on season 5 of Gilmore Girls. I have a 123 day Snapchat streak.  I am also constantly in trouble with my father for exceeding my rather large data package. As you can tell, I am clearly not opposed to technology or social media. But I am boldly in favor of a reprieve – a break from all of that. A time when my focus can be on face to face interactions with the people around me. At Capon, we talk during dinner – grandparents with grandchildren, aunts and uncles, older cousins with younger cousins. We laugh. We walk everywhere and participate in activities I wouldn't even think about participating in here in Raleigh. And when I return home, I feel refreshed. My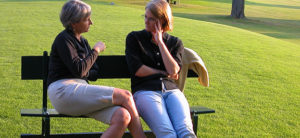 suggestion for you is to find time to step away from your electronics. You may not be able to drive five hours to West Virginia, and you may not be able to break away for a full week, but finding time to unplug, even in small doses, is healthy and a wonderful way to recharge."
Room Availability & Pricing
Stay in one of our 14 wonderful, unique cottages with a variety of accommodations within each one.
Find Your Room