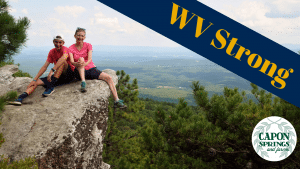 You don't need a plane ticket to arrive at a relaxing all-inclusive resort– you don't even need to leave West Virginia!  Getaway to our secluded historic resort, voted "Best WV Family Vacation Spot" by WV Living Magazine two years running.
AND, for the month of August, we are excited to join with the WV State Parks in showing pride for our great state with a special WV Strong 30% OFF promotion!
WV residents who stay with us for at least 2 nights between Monday, August 3 through Wednesday night September 2, will receive 30% OFF Capon's all-inclusive experience! 
Since our rates are per person and cover lodging, three all-you-can-eat meals daily and all resort activities (except golf and spa), the saving translates to about $150 per night for a family of four!
To receive this special discount, complete a reservation request form and include the code "WV STRONG" in the comment field. Someone from our reservations team will be back in touch as soon as possible to finalize your reservation.
Curious, what the Capon experience is like in 2020?  Take a look at this photo slideshow from the past few weeks.  And here's how some guests described their recent Capon trip:
"We felt safe and cared for during this extraordinary time.  I came home to tell everyone just how fully Capon addressed the needed precautions."  ~Lauren
"Lovely.  Wasn't sure what to expect as a first timer, but so glad we came.  Will be back."
"It's so beautiful and peaceful up here right now.  Capon has done a truly amazing job of providing a safe and welcoming experience.  I can't imagine a better way to take a break from the difficult news in the world right now." ~Jeff
With 4,700 acres of wild, wonderful scenery, there's plenty of space here to spread out, play and relax while making lasting memories. We look forward to welcoming all our WV friends down country roads to your Capon home soon!