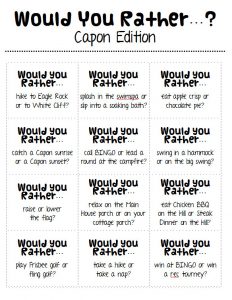 Because Capon is all about good family fun, we've created a free printable for you… a Capon version of the classic game, "Would You Rather?"  There are 36 questions to get you started and a page of blank cards for you to create your own questions.  Draw a few cards to discuss at the dinner table to help you ramp up the excitement for your Capon trip, or scroll through the printable on your phone to play as you pass the time on your drive to Capon!  Here are a few samples:
Would you rather…
… hike to Eagle Rock or White Cliff?
… splash in the swimspa or slip into a soaking bath?
… eat apple crisp or chocolate pie?
… catch a Capon sunrise or a Capon sunset?
… call BINGO or lead a round at the campfire?
Click here to access the printable.  Have fun!
Also, if you'd like to share your own Capon "Would You Rather" questions with us, email them to caponguestfeedback@gmail.com.  We just might add them to the printable!
Room Availability & Pricing
Stay in one of our 14 wonderful, unique cottages with a variety of accommodations within each one.
Find Your Room