Over the weekend we welcomed guests for another preseason weekend; this time to celebrate our 90-year legacy. Festivities included:  a meet-and-greet with the management team, a history tour with Pete Budnyk, and a 90th Anniversary presentation at the Bandstand.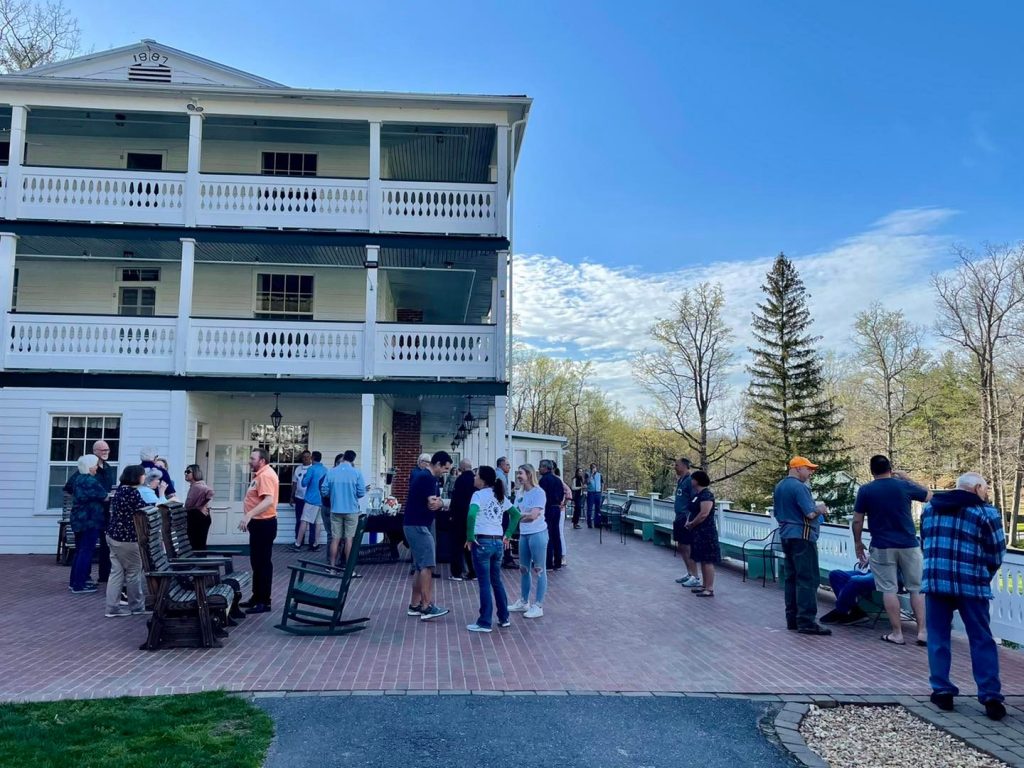 Management Team Meet-And-Greet on the Front Porch
Pete's history tours have become very well known and highly regarded throughout the years and so this weekend we recorded it!  Now, we have a record of it for years to come and we can share it with those of you who were not able to attend.  You can watch the tour in its entirety here.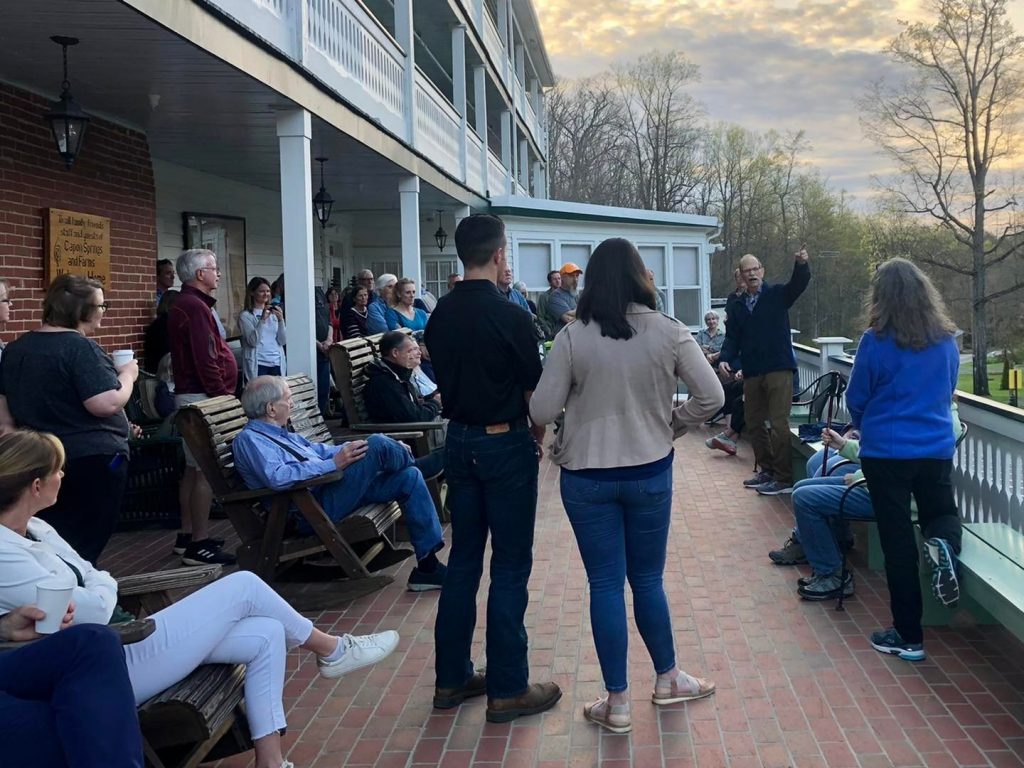 Guests gathered on the front porch for the start of Pete Budnyk's history tour on Friday evening.
The feature presentation of the weekend took place at the bandstand on Saturday afternoon.  Jonathan Bellingham led things off with an introduction and a more in depth version of the Spring Tour which details Capon water's history through the American experience.  You can hear his talk called, "The Capon Water Story" here.
Next on the program was Capon's "History through the Decades" as told by Pete and Dan Budnyk (Dan is one of six fourth generation Austin family members who serve on the Board of Directors).  You can read this history, and see photos on our Capon Through the Decades blog post.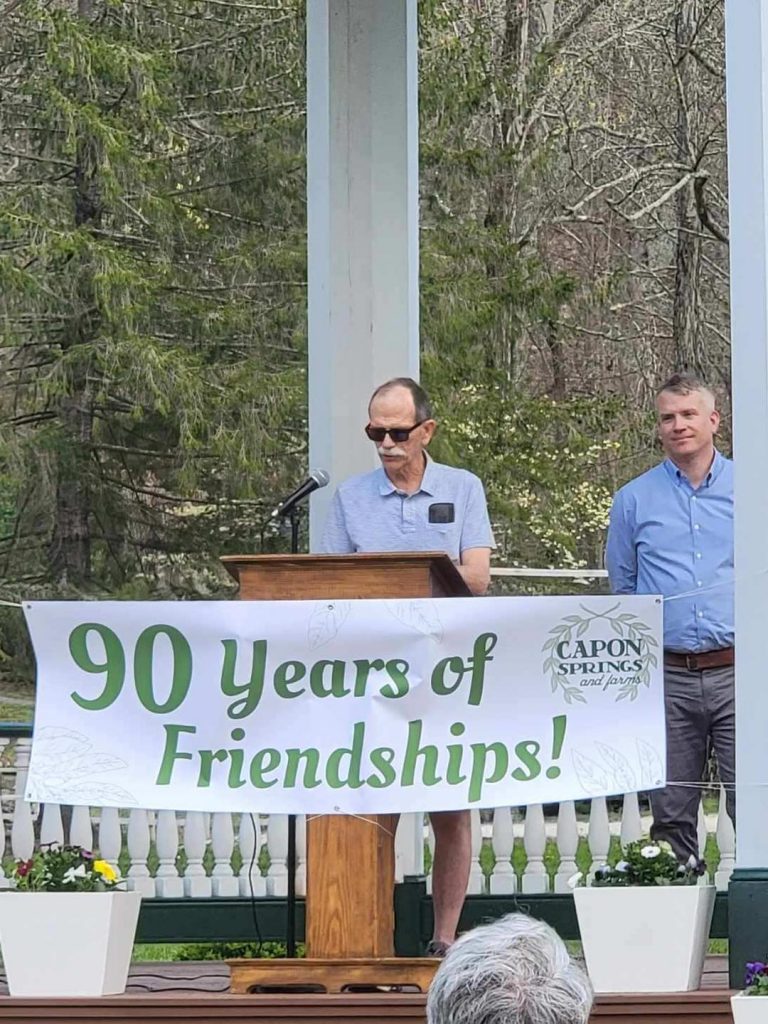 Tom Austin was welcomed up to the podium next to share an original poem he wrote for the occasion, entitled, "All Thanks To Virginia, And Thanks to Lou."  It even included audience participation!  You can view Tom's recital of the poem here and read it below:
All Thanks To Virginia And Thanks To Lou

Capon was acquired during the Depression;
The year was 1932.
And it's still thriving generations later,
All thanks to Virginia and thanks to Lou!

Capon was the perfect vacation get-away;
Wide open spaces and good food too.
Guests quickly found it calling them.
All thanks to Virginia and thanks to Lou!

A beautiful golf course and trails to hike;
Plus a hundred other things to do.
Employment for our nearby neighbors,
All thanks to Virginia and thanks to Lou!

Amenities were constantly added:
Always making things feel so new.
More recently the spa, now two Escape Rooms,
All thanks to Virginia and thanks to Lou!

Capon has united our families and yours;
Certainly from our point of view.
Relationships that have endured a lifetime,
All thanks to Virginia and thanks to Lou!

Still it's the Spirit that draws you back;
The love of life, and simpler things too.
And now NINETY years of friendships,
All thanks to Virginia and thanks to Lou!

TWA   04/23/2022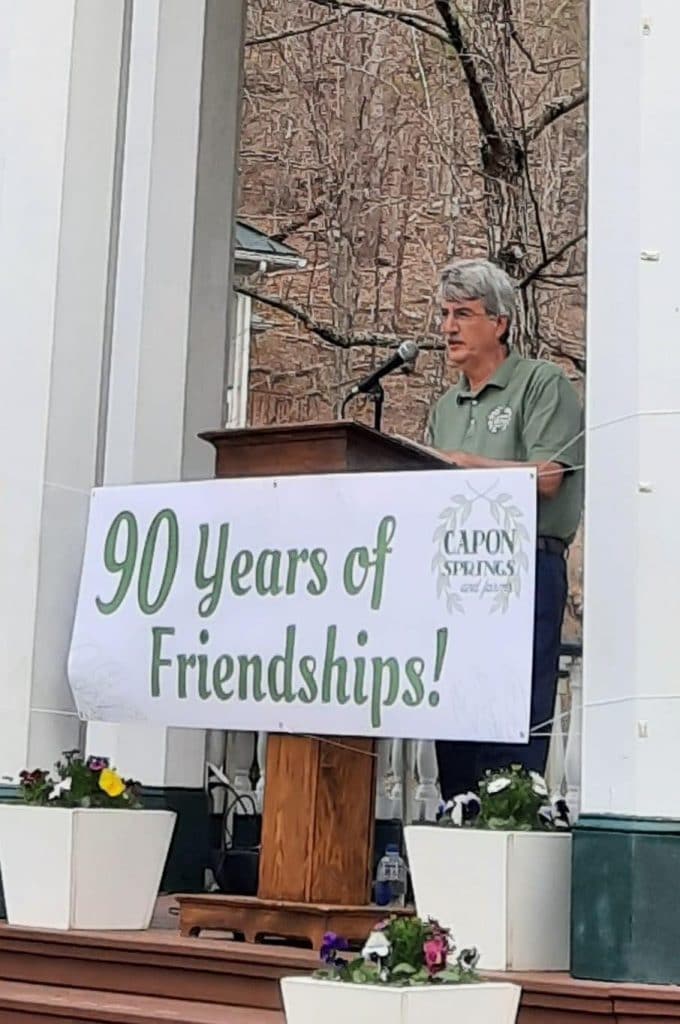 Tom Austin
Megan James, 4th generation Austin family member and current member of the Board of Directors who works with Jonathan on the marketing team was up next to share Capon's mission/vision/values that underwent a revision in 2021.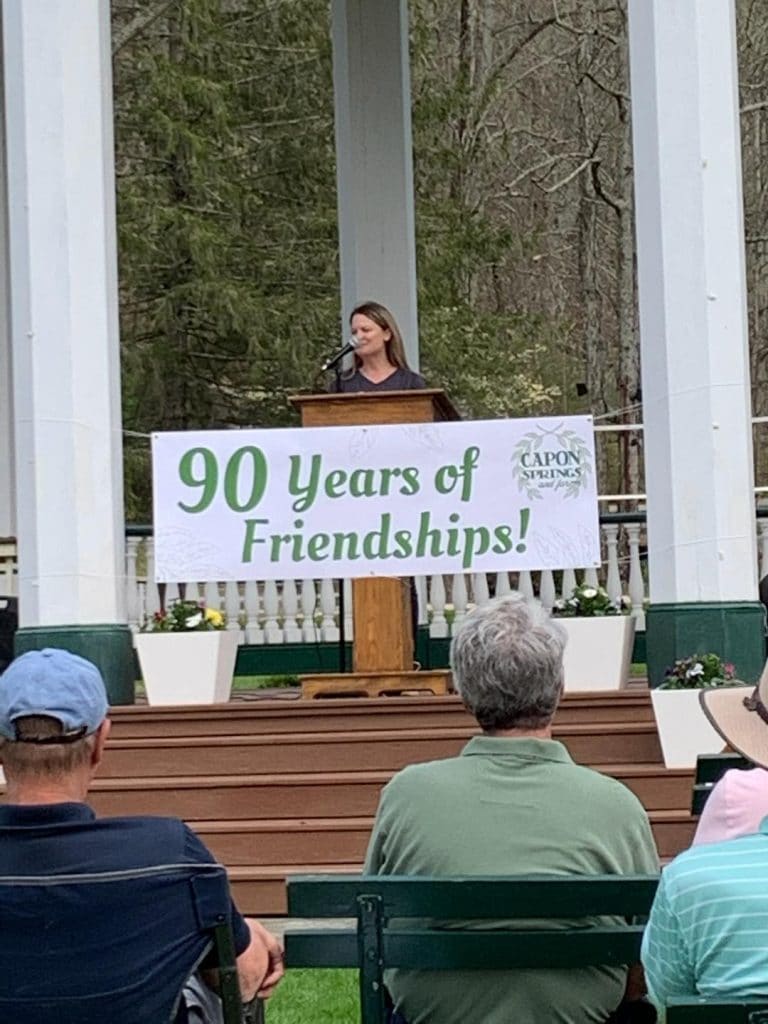 Megan James
Jonathan then returned to the podium to recognize guests in attendance who have joined us for at least 90 visits or at least 365 days.  Next, Serena Cline, our HR Manager, shared a message honoring our co-worker legacy and in particular co-worker families who have worked at Capon for three or four generations.
Serena Cline
Delegate Ruth Rowen was our last guest speaker who shared state and federal government celebratory messages.  The event ended with several 5th generation Austin family members passing out glasses of sparkling Capon water for a toast!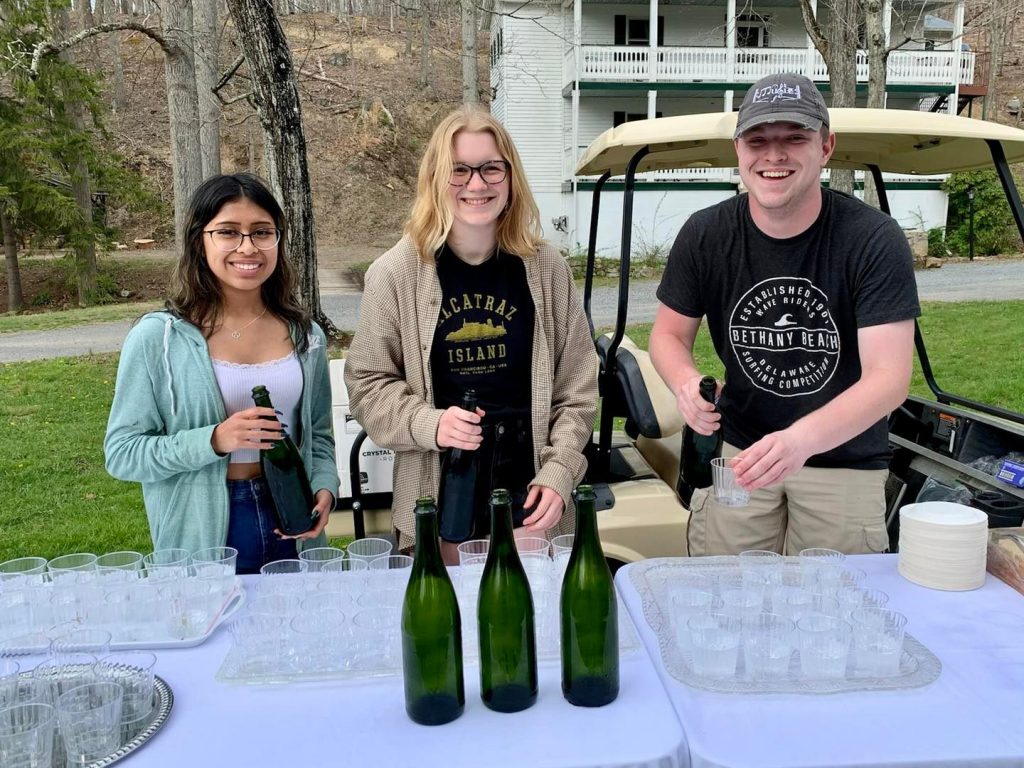 5th Generation Austins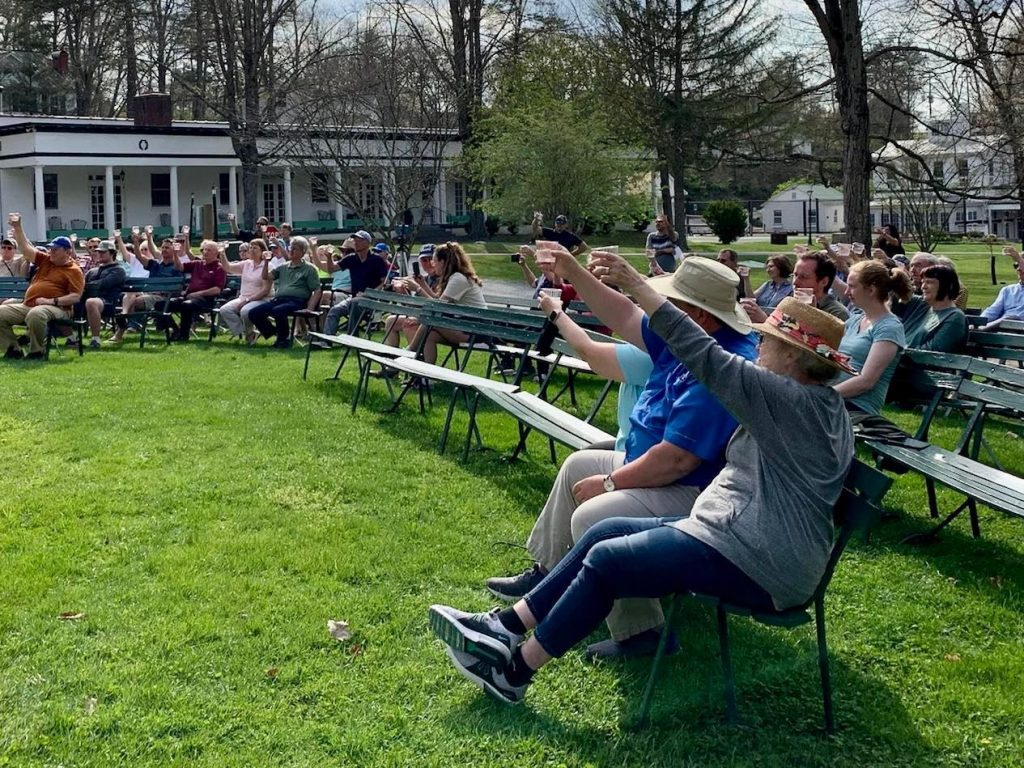 In addition to the celebration, we also hosted our annual Guest Council Retreat. The Guest Council is made up of 15 longtime guests who offer their advice, suggestions and input throughout the year to Capon's leadership team and Board of Directors.  It was wonderful to have them with us to celebrate the 90th.
On Sunday afternoon we held a Co-Worker Family Fun Day when our co-workers had the whole place to themselves to enjoy all that Capon has to offer with their families. The day was capped off with an Appreciation and Awards Dinner at the Sunset Lodge which had 125+ people in attendance.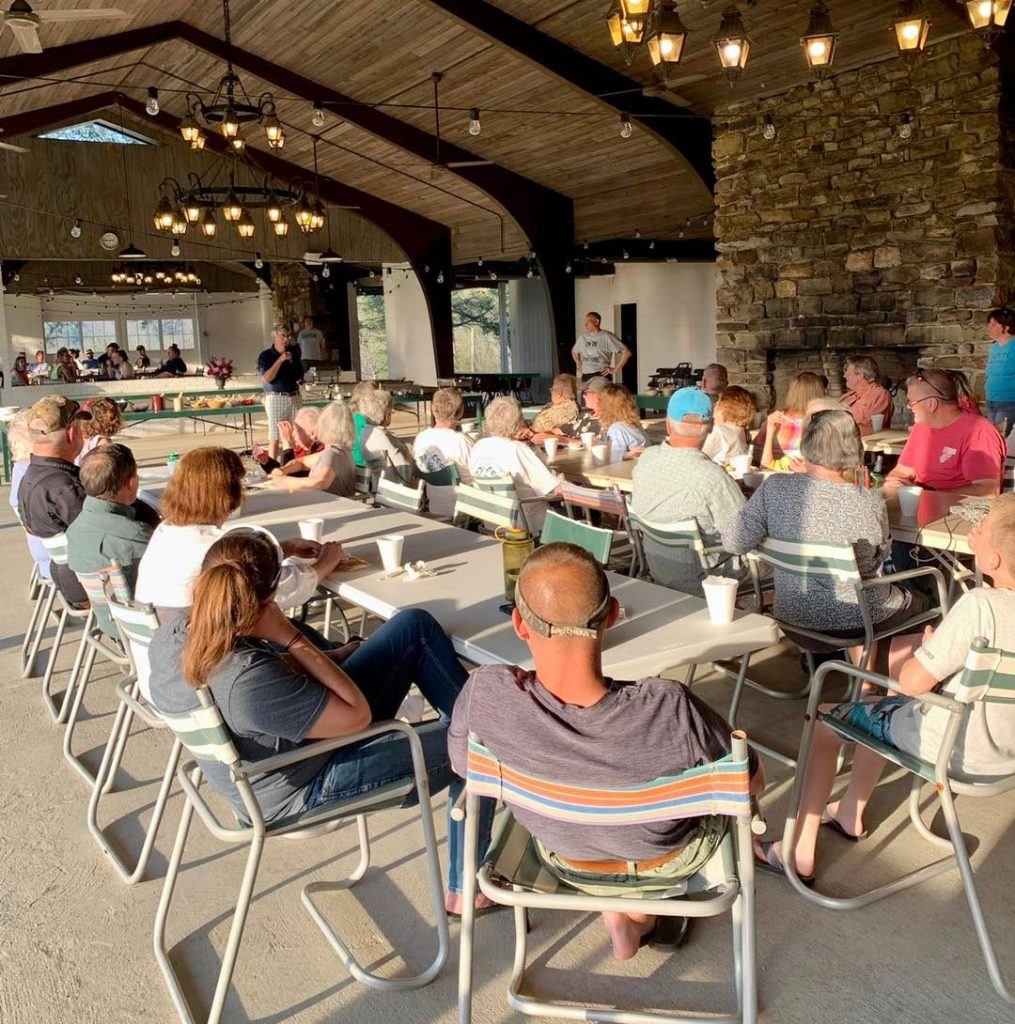 Tom Austin shares a message on behalf of the Austin Family at the Co-Worker Dinner.
It truly was a weekend for the history books! A big thank you to all who joined us and helped us to celebrate this great milestone!
Room Availability & Pricing
Stay in one of our 14 wonderful, unique cottages with a variety of accommodations within each one.
Find Your Room