Delicious Farm-To-Table Food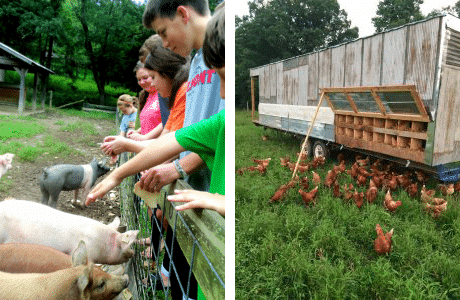 From the very beginning, Capon's farms have been an important part of the Capon experience.   We have been "Farm-to Table" before it became fashionable to be!  In fact, in the 1940 and 50s, Capon's farms provided nearly all the resort needed – from fresh vegetables to turkeys to sausage to eggs and most everything in-between. (Of course, back then we had much fewer guests, too!) In our ever-changing world, Capon's farms have had to evolve. Now, although not producing the quantity of food items it once did when farm workers were readily available, and regulations were few, the direction of the Farm has shifted to one of being sustainable, eco-friendly and low impact (small footprint).
RiverMeadow Farm, Hilltop Farm and Hog Heaven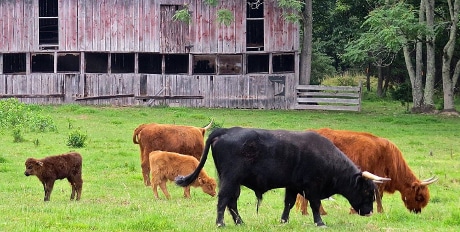 During the past few years, our focus has shifted primarily to animal production.   800 free-range laying hens, who roost at night in moveable "eggmobiles", provide enough fresh brown eggs for breakfast as well as for all the cooks and bakers' needs.   Through our expanded hog breeding program, our farms now supply sausage, bacon, pork tenderloin, ribs, pork shoulders (for pulled pork barbeque!) and other pork products to Capon's kitchens.  This success led to expanding our cattle operation. Our shaggy, big-horned Scottish Highland cattle are definitely a conversation starter! Ground beef, roasts and other cuts are now being used in meals prepared by Capon's cooks.
The farms also provide direct guest experiences– hayrides pulled by our 1952 Oliver Row-Crop tractor, weekly pig feedings at "Hog Heaven" and  farm products for purchase to enjoy at home.   We hope to expand guest experiences by offering scheduled weekly farms tours in the future.  But for now, please check with the Front Desk and they will find out if a tour can be arranged.
Room Availability & Pricing
Stay in one of our 14 unique cottages with a variety of accommodations within each one.
Request Your Room