This winter, the spa is open for day visitors on Thursday, Friday, Saturday and Sunday!   Book your relaxing roman style soaking baths, swimspa, massages, facials or reflexology sessions by emailing Hygeia@caponsprings.net or calling 304-874-3004. 
Current Price List

Note: The Spa will be open based on demand and weather conditions.
About the Spa
Since the early 1800s, people have traveled here to Capon Springs, WV to "take the waters" for healing relief from pain and stress. The word Capon is derived from a Native American word that means "medicine" or "healing waters."
Today, Capon's Hygeia Bath House & Spa remains committed to continuing this tradition of helping each guest relax, recoup and enjoy life. From the moment you enter the spa and you slowly breathe in the wonderful aromas, you can feel yourself begin to unwind. Whether you are new to massage and hydrotherapy or have been enjoying the benefits of these treatments for years, we welcome you to come let your stress slip away. The friendly and accommodating staff will help you decide just the right treatment for you.  You might choose to begin with a pure, hot spring water soaking bath (view a short video of our soaking baths here), followed by a full body massage to complete the experience. Or maybe your feet need that extra attention and you will decide to schedule a reflexology session. No matter which treatments you choose, be sure to spend some time relaxing in the living room by the fire or on one of our porches.
Schedule your relaxation time >> HERE!
*NOTE: If after submitting your appointment requests you have not heard from us within 24 hours, please check your spam/junk folder as our emails sometimes end up there. Thank you!
Spa Contact:  304-874-3004 or hygeia@caponsprings.net
Location:  We are located a Capon Springs and Farms resort.  Our address is 53 Spa Drive, High View, WV  26808.
---
We Have New Ways to Relax!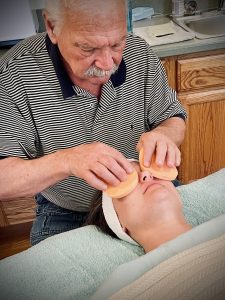 We are excited to share that we have expanded our menu of treatment options and are giving you more ways to relax and recharge!
The first new service we are offering is… Thai massage! Thai massage is an ancient method of healing that combines acupressure, compressions, yoga, stretching and massage techniques to create a truly holistic massage experience. This integrated approach stimulates the body's natural healing ability, leaving you feeling free and relaxed. Thai massage is performed on a massage table, and the client is fully clothed. Loose fitting clothes are required. This 60 minute specialized treatment is $110.
We are also thrilled to offer a new facial massage! This rejuvenating facial treatment begins with warm towels soaked in Capon Water and a thorough brush cleansing to soften the skin and prepare it for the massage. Using luxurious oils and a Honeylift Massage Lotion, your massage therapist will use shaping, tapping, acupressure and contouring strokes to stimulate, nourish, tone and smooth the muscles and skin of your face. The treatment also includes shoulder, neck, hand, foot or scalp massage. This 60 minute treatment is $110 and will leave you feeling wonderfully relaxed with a healthy glow!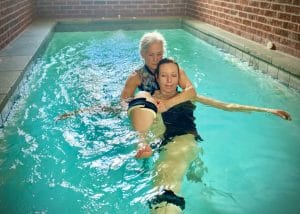 Another new service available on select dates is WATSU(R) water therapy! WATSU(R) is a form of water therapy which involves stretches, massages, and acupressure in warm water. The weightlessness of the body frees the spine and joints allowing you to move and stretch much more fluidly than on land. The resistance of water soothes physical tension and encourages relaxation, which supports overall health.
Although your WATSU(R) session will be customized to your specific needs, here's what you can typically expect during a WATSU(R) treatment:
Your session will take place in the SwimSpa (a private exercise pool heated to 90 degrees).
Your therapist might have you wear floating devices on your arms or legs.
You'll enter the water and float on your back. Your therapist is in the water with you. The back of your head and knees will typically rest in your therapist's forearms.
Your therapist will slowly rotate, moving your body in large circles.
Your therapist will alternate between extending their arms and drawing them in, moving you back and forth in the water as they do so.
Your therapist will move your body in gentle, repetitive patterns which may include twisting, rocking or cradling, and stretching.
They may rest your head on their shoulder and move you in large circles.
Throughout the session, your therapist will massage pressure points on your body.
Sessions are 60 minutes long and are $90 in honor of Capon's 90th Anniversary!
You can see a video below of Spa Manager, Alicia LaFollette, and Jonathan Bellingham, Director of Guest Services, enjoying WATSU(R) treatments at the spa.
Thai massage, facial and WATSU(R) appointments are limited.  We recommend scheduling far in advance.  Learn about all the services we offer here.
Gift Certificates Are Available
Gift certificates to the spa make a wonderful gift for any occasion!  You can choose to give a specific dollar amount or a specific service(s). Contact the spa at 304-874-3004 or hygeia@caponsprings.net with any questions or to purchase a gift certificate.  Gift certificates can be mailed or picked up at the spa.
Spa Reservations
Pamper yourself with a hot soaking bath, massage or reflexology treatment.
Request A Spa Appointment