The Spa is OPEN this winter!
We are thrilled to share the news that the spa is now open on weekends (Fridays, Saturdays and Sundays) all winter long (weather permitting and hours based on demand)!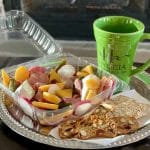 We are now offering charcuterie boards (one individual size:  $10.95; and one that is the perfect size for sharing with a friend: $19.95) to enjoy during your visit to the spa!  The charcuterie will feature an assortment of meats, cheeses, fruits, artisan crackers, and spreads.  We recommend  you order your charcuterie board ahead of your visit when you schedule your spa services so we can ensure we have one prepared for you.  Capon cookies will also be for sale as well as Capon dressings, jellies and jams and the Capon cookbook!
---
Upcoming Events:
Sweetheart Soaking Bath Package
Looking for a unique and special way to celebrate Valentine's Day? We have an idea for you… a "Sweetheart Soaking Bath!" This romantic bath package includes our pure spring water soaking bath for two with natural aromatherapy mineral salts, rose petals and candles around the bath, a 4-count box of delicious local truffles (from EH Chocolates & More) and a bottle of Sparkling Capon Springs Water! Available the weekend before Valentine's Day (Friday, February 11, Saturday, February 12 and after 2 PM on Sunday, February 13). Cost of the Sweetheart Bath is $85. Contact the spa at 304-874-3004 or hygeia@caponsprings.net to schedule this special experience for you and your valentine!
GALentine's Day Waffle Bar
Gather your best girl friends for a morning of pampering this Galentine's Day ~ Sunday, February 13th! We will be serving up a complimentary waffle bar from 10 AM – 2 PM with an assortment of tasty toppings, as well as coffee, tea, juices and sparkling Capon water (free with the purchase of spa services). A Galentine's Day themed photo booth will add to the fun! Celebrate the love you have for your best gal pals with special spa time together!
To book your Galentine's Day spa day, call 304-874-3004 or email hygeia@caponsprings.net. To learn more about our services, please visit our website: www.caponsprings.net/spa/services/
---
Reserve the spa for a small, private event or gathering!
Imagine having the spa all to yourselves to enjoy the baths and Swimspa as well as relax and visit with family and friends by the fireplace in our cozy living room.  This would be an ideal opportunity to celebrate engagements, bridal showers, baby showers, birthdays, or reunions with friends!  Cookies, coffee, and teas are included and you can order a charcuterie board for your size gathering.  Please contact the spa at (304) 874-3004 or hygeia@caponsprings.net for options, details and pricing!
For a virtual tour of the spa, please click here.
---
About the Spa
The Hygeia Bath House and Spa gets its name from Hygeia, the Greek goddess whose "gift" is "the prevention of sickness and the continuation of good health." From the moment you enter the spa and you slowly breathe in the wonderful aromas, you can feel yourself relaxing. Whether you are new to massage or have been enjoying the benefits of these treatments for years, we welcome you to come and let your stress slip away. The friendly and accommodating staff will help you decide just the right healing therapies: maybe you'll begin with a hot soaking bath of healing Capon spring water (view a short video of our soaking baths in action here), then a massage to complete the experience. Or maybe your feet need that extra attention and you will decide to schedule a reflexology session. Be sure to spend some time on the spa porch swing watching the hummingbirds… many guests have told us that the spa porch is one of their favorite places at Capon.  Schedule your relaxation time here!
---
If you would like to purchase a gift certificate, please contact us at hygeia@caponsprings.net.
Spa Reservations
Pamper yourself with a hot soaking bath, massage or reflexology treatment.
Request A Spa Appointment