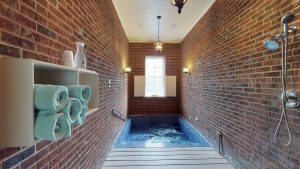 The Hygeia Bath House and Spa gets its name from Hygeia, the Greek goddess whose "gift" is "the prevention of sickness and the continuation of good health." From the moment you enter the spa and you slowly breathe in the wonderful aromas, you can feel yourself relaxing. Whether you are new to massage or have been enjoying the benefits of these treatments for years, we welcome you to come and let your stress slip away. The friendly and accommodating staff will help you decide just the right healing therapies: maybe you'll begin with a hot soaking bath of healing Capon water (view a short video of our soaking baths in action here), then a massage to complete the experience. Or maybe your feet need that extra attention and you will decide to schedule a reflexology session. Be sure to spend some time on the Spa porch swing watching the hummingbirds… many guests have told us that the Spa porch is one of their favorite places at Capon.
The Hygeia Bath House & Spa is closed when Capon is closed.  Our 2021 season begins Thursday, April 29.  We look forward to welcoming you back then!
If you would like to purchase a gift certificate or spa products for the holiday season, please contact us at hygeia@caponsprings.net.
---
Menu of Services and Policies
For a 2021 listing of our spa services and pricing, click here.
For our 2021 spa safety guidelines, click here.
For "things you should know" (policies and protocols), click here.
For a virtual tour of the spa, please click here.
---
Spa Reservations
To make reservations, you can complete this spa appointment request form, or you can contact us by phone at 304-874-3004 or by email at: Hygeia@caponsprings.net. We strongly encourage you to make your appointments before you arrive!  Relaxation awaits at the Hygeia Bath House & Spa… We look forward to helping you relax, recoup and unwind!
Spa Reservations
Pamper yourself with a hot soaking bath, massage or reflexology treatment.
Request A Spa Appointment