Schedule your relaxation time >> HERE!
Soaking Baths:
Descend down four steps into one of our three tiled soaking baths filled with 500 gallons of pure Capon Springs Water heated to 102 degrees! Each individual private room with 6 x 8 x 3 foot tub and shower is reserved for 30 minutes. When you arrive at the spa, you will be provided with a robe and sandals.
$30.00 for the first person; Each additional adult: $15.00 
Aromatherapy Mineral Salts:
Mineral-rich ocean and desert salts are combined with essential oil blends to create a natural bath formula that softens and soothes your skin while engaging the senses… choose your scent!
$10.00 added to your bath
---
Swimspa:
Heated to a comfortable 86 degrees, our 7' x 15' x 41/2' deep personal exercise/splash pool provides a jetted workout area for swimming, aqua jogging, exercising, floating and having fun! Like the baths, the Swimspa has its own private showering area.
30 minutes: $18.00
45 minutes:  $22.00
60 minutes:  $25.00
Each additional adult: $7.00
---
WATSU(R) Water Therapy:
WATSU(R) is a form of water therapy which involves stretches, massages, and acupressure in warm water. The weightlessness of the body frees the spine and joints allowing you to move and stretch much more fluidly than on land. The resistance of water soothes physical tension and encourages relaxation, which supports overall health.  WATSU(R) takes place in our SwimSpa (personal exercise pool). Your therapist will be in the water with you and a swimsuit is required. Your therapist might have you wear floating devices on your arms or legs.
60 minutes:  $90.00
Note:  WATSU(R) appointments are available on select dates only.  Please check with the spa desk about availability.  Thank you!
---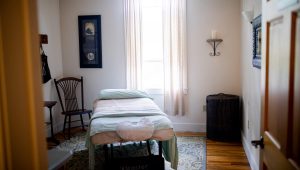 Massage:
Enjoy a customized, relaxing treatment with one of our experienced therapists. Our massage therapists are trained in various types of massage. They will discuss with you what would best suit your needs.
30 minutes of focused treatment of neck/shoulders/back OR neck/hands/feet: $55.00
60 minutes of personalized, full body treatment: $99.00
60 minute "side by side" couples massage:  $210.00
---
Thai Massage:
Thai massage is an ancient method of healing that combines acupressure, compressions, yoga, stretching and massage techniques to create a truly holistic massage experience. This integrated approach stimulates the body's natural healing ability, leaving you feeling free and relaxed. Thai massage is performed on a massage table, and the client is fully clothed. Loose fitting clothes are required.
60 minutes:  $110.00
Note:  Thai massage appointments are limited. We recommend booking far in advance.  Thank you!
---
Facial Massage:
Tone and lift the delicate skin of your face with this revitalizing facial massage treatment.  The service begins with warm towels soaked in Capon Water and a thorough brush cleansing to soften the skin and prepare it for the massage. Using luxurious oils and a Honeylift Massage Lotion, your massage therapist will use shaping, tapping, acupressure and contouring strokes to stimulate, nourish, tone and smooth the muscles and skin of your face.  The 60 minute treatment also includes shoulder, neck, hand, foot or scalp massage.
60 minutes:  $110.00
Note:  Facial appointments are limited.  We recommend booking far in advance.  Thank you!
---
Reflexology:
Treat your feet and your whole body gets a tune up! More than just a foot massage, this pressure point therapy improves your circulation and nerve function while releasing body tension.
30 minutes: $55.00
60 minutes:  $90.00
Schedule your relaxation time >> HERE!