Mike Stover, General Manager
Background:  Married to my wife, Ellen, and we have four daughters: Paige, Madalyn, Emma, and Phoebe.  I was introduced to Capon by my grandparents in 1976 and then came back to Capon with my wife and kids in 2000.  We have been regular guests on the second week of July and other times of the year for the past 20 years.  Prior to taking the GM position I owned a home heating oil/HVAC company in Hershey PA that I grew up in as a family business until its sale in November of 2018.
What do you love most about Capon?
I love the family time at meals the most at Capon.  We usually always have extended family with us.  After breakfast we usually scatter with the kids going one direction and the adults another.  Then when we all gather back, I most enjoy the conversations of what everyone had done between the meals.
What motivates and inspires you?
My motivation comes from the challenge of the project and people doubting that something can be completed.
What is your favorite spot at Capon?
Sunset lodge is my favorite spot, especially in the evening watching the sun set.
---
Jonathan Bellingham, Director of Guest Services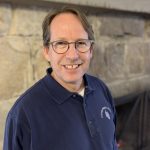 ---
Beth Kinghorn, Reservations Manager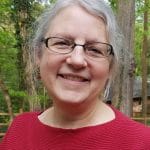 Background:  I grew up in the Southern Adirondacks of the New York State, but came south to the Richmond, VA area to go to college and eventually made Virginia my home. I have two grown sons and two beautiful daughters-in-law, now living at opposite sides of the county – Los Angeles and Boston! After earning a Master's Degree in Christian Education I worked for a number of years as a Director of Christian Education before becoming a stay-at-home mom while my children were growing up (my favorite job so far!). Fast forward many years…most recently I was as a small business owner of a professional organizing business.
What drew you to Capon Springs?
I am drawn to Capon Springs because it embodies a number of my favorite things – hospitality, a beautiful natural setting, and meaningful traditions that have been passed down for generations.
What motivates/inspires you?
I am motivated by my faith, my family, and being in nature (especially the mountains!).
Fun facts about Beth:
-I am a hopelessly addicted amateur photographer – I simply can't resist trying to create the perfect shot of any beautiful or interesting scene. In a very short time I will have hundreds of photos of Capon Springs stored on my phone!
-I have been a writer since I could hold a pencil, writing my first poem (about colors) at age 8. I have a published essay and I self-published a book on step-by-step organizing.
-I actually really do love to organize!
---
Alicia LaFollette, Spa Manager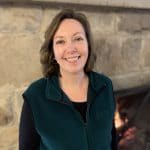 Background: I grew up in Winchester, Virginia and moved to Capon Springs when I married Roland LaFollette (son of front desk receptionist Ruby) in 1987.  While I am not a native of West Virginia, my ancestors helped settle the Capon Bridge area in the 1700's.  After moving to Capon Springs, I started working at the resort in the laundry.   My life took a big detour when I was offered a job with the United States Postal Service at the local Capon Springs Post Office.  Eventually, I became Postmaster and continued working there until a year after my first child was born.  Because I wanted to devote more time to my family, I resigned from the post office in 1997 and spent the next ten years raising my two children.  In 2007, Ginny Brill asked if I would be interested in coming to work at the Hygeia Bath House and Spa.  Thanks to the flexibility she offered, I accepted.  I am happy to find myself at Capon again and I hope to be here for many more years.
What do you love most about Capon?
I love the timeless and enduring quality of Capon.  I work with an amazing group of people who make everyday a great workday.
What motivates/inspires you?
My faith, family and laughter
Favorite spot at Capon?
The back porch at the spa (the hummingbirds are mesmerizing), and the golf course because of the beautiful views.
Fun Facts about Alicia:
-I love to knit.
-I share my home with two dogs, three cats and a gecko.
-I am the happiest when I am reading a good book with a cat sleeping on my lap.
---
Serena Cline, Human Resource Manager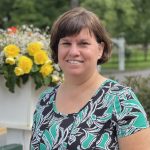 Background: I am a native of Wardensville, WV and second generation of my family to work at Capon. My mother, Geraldine, worked in the back kitchen for 29 years. My sister, Valerie, has also worked at Capon and my nephew, Noah, currently works in recreation. I first worked for Capon in 1985 as a play-ground attendant and kitchen helper, and later as a lifeguard. After graduating college at Marshall University, I worked for the local newspaper, The Moorefield Examiner, and then spent almost twenty years working for the state of West Virginia. In 2015 I began working weekends at the front desk with Tom. I always referred to Capon as my "fun" job. In June 2020 I came onboard full time as the Human Resources Manager.
What do you love most about Capon: I love the family feel and laid back nature of Capon. I'm blessed to work with the greatest co-workers in such a beautiful setting.
What motivates/inspires you: I am motivated by the dedicated co-workers at Capon Springs. I am inspired by seeing the hard work and commitment that our co-workers put in each day, and I want Capon to be just as great a place to work as it is to visit.
Favorite spot at Capon: Without a doubt…the Bake Shop! My nose just leads me to the mouthwatering aromas coming from the bake shop. I joke with the ladies in the bake shop that I am going to move my desk in there. Also, the brick oven is amazing, and I just love seeing the whole process that creates Capon's delicious desserts, especially the ginger cookies.
Fun Facts about Serena:
-I am a huge football fan and lifelong Dallas Cowboy fan (Can you believe Tom ever hired me?!).
-My favorite exercise is kickboxing though I do not do it often enough.
-I am a crazy cat lady. I have three fur babies Peanut, Holly and Bruce.
---
James D. (JD) Anderson, Accountant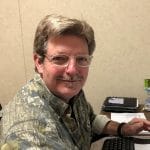 I joined the management team in April 2018 after Phil Guard's retirement.   As "the numbers guy", I take care of the accounting and bookkeeping duties for the resort.  I am hoping to get to know as many of the guests as possible.  My wife and I live in Cross Junction, VA, which is about 25 minutes away from Capon.  I am also a certified Archery Instructor on the side.
Sam Brill, Facilities Manager
---
Mark Nicholson, Food and Beverage Manager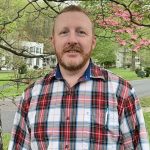 Background:  I grew up and went to school here in Hampshire County. I lived here until recently moving with my wife and children to Toms Brook, Virginia. My dad owned a restaurant when I was young and that's where my love for food began. After doing a variety of jobs over the years I decided to start a career in the food and beverage industry. Most recently I was the food and beverage manager at an assisted living facility, after having been a sous chef at James Madison University. I'm looking forward to working with the staff and exploring the area in and around Capon Springs. The beauty and secluded nature is definitely an attraction for me. I have a daughter and son. Lillian and Sidney. I love to hunt and fish. My family and I love to go camping.
---
Kayla Quarles, Dining Room Manager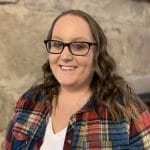 Background:  I started working at Capon when I was 15 as a waitress. I either came with my grandmother extremely early in the morning or I hitched a ride with some of the college girls. Speaking of my grandmother she is the beloved former waitress Dorothy Walker. Capon has been a part of my life as far back as I can remember. I worked at Capon every summer through high school, college, and then after college when I still hadn't figured out what I wanted to do with my life. I took some time off to try something different about 2 and a half years ago.   (Although I never fully left since I worked here on some of my weekends off!)   Fast forward a bit, a lot of things happened, and now I'm back full time!
Favorite part of working at Capon:  Would be to see families that I waited on for years return to Capon. The Spring, Tully, and Jones families will always have a special place in my heart. I'm so blessed that through Capon I was able to meet them.
What motivates you?  My family, especially my nephew Carter. He's 4 and my favorite person on this planet. Also, all the Capon guests are a huge motivation. I want them to have an amazing vacation, to have great service and food.
Favorite Capon spot: This is so hard. If I had to pick one spot it would be Sunset Lodge. I've been up there when it's a hundred degrees and when it's been snowing. It's amazing some of things we have done up there with weddings. I also love the library. I'm a book lover and it's so peaceful up there.
Fun Facts about Kayla:
-I was a 911 Dispatcher for 2 and a half years before coming back to Capon full time.
-My favorite tv show is Friends and my favorite movie is Matilda.
-I'm a HUGE Washington Nationals fan.
---
Gerald Brill, Golf Course Manager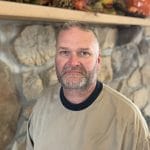 Gerald started working at Capon in 1986 washing dishes in the kitchen.  After a brief time away, he returned in July of 1997 working in the maintenance department. He then moved to the golf course where he supervises that operation.  Gerald serves as the chief of the Capon Springs Volunteer Fire Department and assists with local EMS calls.  Look for a full web blog introduction in early 2019.
---
Vicki Smith, Housekeeping Manager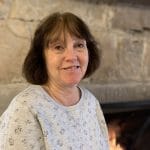 Background: Vicki brings a lifetime of Capon experience to her daily duties.  Many guests, especially those who stay in the Pavilion, have gotten to know Vicki  over the years. Vicki started working at Capon in the mid 1970s at River Meadow Farm in Yellow Spring, close to where she grew up.  She picked strawberries and vegetables for several years before coming up to work at the hotel.  She has served in many capacities including back kitchen, rooms and night office duty.
Favorite part of working at Capon: Definitely the people I work with who have become a second family.  I've learned so much from them and appreciate their strong work ethic and respect for one another. Also seeing the familiar faces of the guests that return every year.  They take the time to ask me about how I'm doing and about my family.  You can't find anywhere else with that kind of caring for people.
What motivates you?  Spending time with family.  Making memories with them is what life is all about.
Favorite spot at Capon: Sunset lodge.  The scenery is beautiful and it is such a wonderful gathering place for meals- the aromas from the food grilling is amazing!
Fun Facts about Vicki:
-I have two daughters and two grandsons I enjoy doing activities with whenever possible.
-I like mystery TV shows- am an Investigation Discovery channel addict!
-My husband, Rick, is the manager of Camp Rim Rock, a nearby girls summer camp.