---
Jonathan Bellingham, Director of Guest Services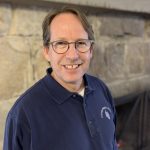 Background: I grew up an Air Force brat and preacher's kid as my early experiences of Capon was visiting this magical place to see my family for a week or two during the summer.  In the late 1980s, when the second generation retired , a call was made for any interested thirds to consider working at Capon.  After working a few summers while in college, I decided to try it as I figured out what I wanted to do for the rest of my life.  The first few years I was in charge of housekeeping and laundry, while also running the recreational activities.  Later in the 1990s, I shifted into marketing and recreation as we developed more ways to introduce new people as well as expand programs.  Eventually, my third-generation family members retired.  As my role of hosting and general responsibilities increased, I was elevated into a new position as Director of Guest Services.
What do you love most about Capon?
The rhythm of the days, weeks, cycle of meals, activities, arrivals and departures provide a comforting background to work and play.   But what I love most is the warmth of friendships reconnecting through welcoming hugs, porch conversations and relaxing visits.
What motivates/inspires you?
My grandparents dream passing through me to my children's future.
Favorite spot at Capon?
The swimming pool dip before breakfast to start the day and dinner on the hill with sunset to end the day.
Fun Facts about Jonathan:
I have traveled independently to some out of the way places like Eastern Europe before the fall of the Berlin wall; hidden Mayan ruins in southern Mexico, caves at the headwaters of the Amazon River in Ecuador, 100k race around Odessa, Ukraine and sailing in the Strait of Hormuz between Oman and Iran. nd generation reflexologist and wedding officiant. -I competed in the 1500m track race in the Senior Olympics in 2012, finishing 7th in the country for my age group.
-I am a 2
---
Margy Wirtz-Henry, Front Desk Manager
---
Alicia LaFollette, Spa Manager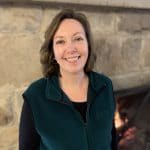 Background: I grew up in Winchester, Virginia and moved to Capon Springs when I married Roland LaFollette (son of front desk receptionist Ruby) in 1987.  While I am not a native of West Virginia, my ancestors helped settle the Capon Bridge area in the 1700's.  After moving to Capon Springs, I started working at the resort in the laundry.   My life took a big detour when I was offered a job with the United States Postal Service at the local Capon Springs Post Office.  Eventually, I became Postmaster and continued working there until a year after my first child was born.  Because I wanted to devote more time to my family, I resigned from the post office in 1997 and spent the next ten years raising my two children.  In 2007, Ginny Brill asked if I would be interested in coming to work at the Hygeia Bath House and Spa.  Thanks to the flexibility she offered, I accepted.  I am happy to find myself at Capon again and I hope to be here for many more years.
What do you love most about Capon?
I love the timeless and enduring quality of Capon.  I work with an amazing group of people who make everyday a great workday.
What motivates/inspires you?
My faith, family and laughter
Favorite spot at Capon?
The back porch at the spa (the hummingbirds are mesmerizing), and the golf course because of the beautiful views.
Fun Facts about Alicia:
-I love to knit.
-I share my home with two dogs, three cats and a gecko.
-I am the happiest when I am reading a good book with a cat sleeping on my lap.
---
Serena Cline, Human Resource Manager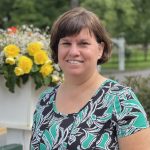 Background: I am a native of Wardensville, WV and second generation of my family to work at Capon. My mother, Geraldine, worked in the back kitchen for 29 years. My sister, Valerie, has also worked at Capon and my nephew, Noah, currently works in recreation. I first worked for Capon in 1985 as a play-ground attendant and kitchen helper, and later as a lifeguard. After graduating college at Marshall University, I worked for the local newspaper, The Moorefield Examiner, and then spent almost twenty years working for the state of West Virginia. In 2015 I began working weekends at the front desk with Tom. I always referred to Capon as my "fun" job. In June 2020 I came onboard full time as the Human Resources Manager.
What do you love most about Capon: I love the family feel and laid back nature of Capon. I'm blessed to work with the greatest co-workers in such a beautiful setting.
What motivates/inspires you: I am motivated by the dedicated co-workers at Capon Springs. I am inspired by seeing the hard work and commitment that our co-workers put in each day, and I want Capon to be just as great a place to work as it is to visit.
Favorite spot at Capon: Without a doubt…the Bake Shop! My nose just leads me to the mouthwatering aromas coming from the bake shop. I joke with the ladies in the bake shop that I am going to move my desk in there. Also, the brick oven is amazing, and I just love seeing the whole process that creates Capon's delicious desserts, especially the ginger cookies.
Fun Facts about Serena:
-I am a huge football fan and lifelong Dallas Cowboy fan (Can you believe Tom ever hired me?!).
-My favorite exercise is kickboxing though I do not do it often enough.
-I am a crazy cat lady. I have three fur babies Peanut, Holly and Bruce.
---
Director of Operations, Liz Buhrman
Background:  I attribute my adventurous spirit and work ethic to my upbringing. With my father an officer in the Army, my brother and I were uprooted frequently to meet new people and live and play in different parts of the country. WV is now the 7th state that I have called home.  Being fascinated with the how's and why's of people and the world, I studied Philosophy and Biology in college, while playing softball and facilitating outdoor education trips. I currently reside in Wardensville, WV with my fiancé Toby, enjoying the adventures of parenthood with our three kids: Gabby (13), Connor (10), and Tussey (our English lab).  In my professional career, I stepped into leadership roles early on.  During the last 15 years, I have served as the Education Director at a residential program for adjudicated youth, the Director of Lab Services of an analytical chemistry lab, and most recently as the Executive Director of a start-up outdoor lodging and retreat center.
What drew you to Capon and the Director of Operations position?
I have a strong interest in work culture and operations. I think the number #1 thing that drew me to Capon was the welcoming attitude of the folks I met through the interview process and sense of community that I felt. I am looking forward to utilizing my experiences and skills to build on the strong foundation that exists while honoring the traditions of Capon.  I am excited to witness the magic of Capon as it comes alive with guests this season.
What motivates and inspires you?
In my professional life, I am motivated by facilitating and witnessing growth in individuals and teams.  I enjoy looking at challenges from different angles and collaborating with others to overcome obstacles and achieve success, which I believe can only happen through developing and maintaining a positive work culture.
Three fun facts about Liz:
1) I enjoy all things outdoors- mushroom hunting, paddling, hiking, fishing, hunting, campfire cooking, and exploring.
2) I am super competitive. At the age of 38, I am slowly coming to terms with the fact I am often wrong and sometimes lose.
3) I love spontaneous road trips, putting together puzzles, and spending time in the kitchen.
---
Mark Nicholson, Food and Beverage Manager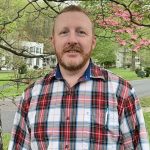 Background:  I grew up and went to school here in Hampshire County. My dad owned a restaurant when I was young and that's where my love for food began. After doing a variety of jobs over the years I decided to start a career in the food and beverage industry. Most recently I was the food and beverage manager at an assisted living facility, after having been a sous chef at James Madison University.
What do you love most about Capon?
What I love most about Capon is the family atmosphere. Not only among the guests, but also between the co-workers. It makes Capon a great place to work and stay.
What motivates and inspires you?
What motivates me is a desire to make people happy. For me that is done through food. I love to engage with guests and co-workers and strive to leave them with a smile and a full stomach.
What is your favorite spot at Capon?
One of my favorite spots here at Capon is the Sunset Lodge overlooking the golf course. It's a great place to enjoy a meal, as well as watch the sunset take all the stresses of the day away. Another is the front porch at the Main House. To be able to look out upon Capon's grounds and see families, and children enjoy the simpler things in life is very rewarding and brings a smile to my face.
Fun Facts about Mark:
I have a daughter and son, Lillian and Sidney. I love to hunt and fish. My family and I love to go camping.
---
Kayla Quarles, Dining Room Manager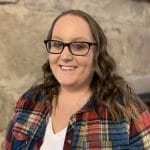 Background:  I started working at Capon when I was 15 as a waitress. I either came with my grandmother extremely early in the morning or I hitched a ride with some of the college girls. Speaking of my grandmother she is the beloved former waitress Dorothy Walker. Capon has been a part of my life as far back as I can remember. I worked at Capon every summer through high school, college, and then after college when I still hadn't figured out what I wanted to do with my life. I took some time off to try something different about 2 and a half years ago.   (Although I never fully left since I worked here on some of my weekends off!)   Fast forward a bit, a lot of things happened, and now I'm back full time!
Favorite part of working at Capon:  Would be to see families that I waited on for years return to Capon. The Spring, Tully, and Jones families will always have a special place in my heart. I'm so blessed that through Capon I was able to meet them.
What motivates you?  My family, especially my nephew Carter. He's 4 and my favorite person on this planet. Also, all the Capon guests are a huge motivation. I want them to have an amazing vacation, to have great service and food.
Favorite Capon spot: This is so hard. If I had to pick one spot it would be Sunset Lodge. I've been up there when it's a hundred degrees and when it's been snowing. It's amazing some of things we have done up there with weddings. I also love the library. I'm a book lover and it's so peaceful up there.
Fun Facts about Kayla:
-I was a 911 Dispatcher for 2 and a half years before coming back to Capon full time.
-My favorite tv show is Friends and my favorite movie is Matilda.
-I'm a HUGE Washington Nationals fan.
---
Sam Brill, Facilities Manager
---
Gerald Brill, Golf Course Manager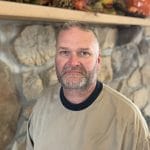 Gerald started working at Capon in 1986 washing dishes in the kitchen.  After a brief time away, he returned in July of 1997 working in the maintenance department. He then moved to the golf course where he supervises that operation.  Gerald serves as the chief of the Capon Springs Volunteer Fire Department and assists with local EMS calls.  Look for a full web blog introduction in early 2019.
---
Vicki Smith, Housekeeping Manager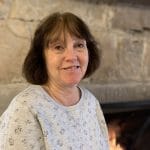 Background: Vicki brings a lifetime of Capon experience to her daily duties.  Many guests, especially those who stay in the Pavilion, have gotten to know Vicki  over the years. Vicki started working at Capon in the mid 1970s at River Meadow Farm in Yellow Spring, close to where she grew up.  She picked strawberries and vegetables for several years before coming up to work at the hotel.  She has served in many capacities including back kitchen, rooms and night office duty.
Favorite part of working at Capon: Definitely the people I work with who have become a second family.  I've learned so much from them and appreciate their strong work ethic and respect for one another. Also seeing the familiar faces of the guests that return every year.  They take the time to ask me about how I'm doing and about my family.  You can't find anywhere else with that kind of caring for people.
What motivates you?  Spending time with family.  Making memories with them is what life is all about.
Favorite spot at Capon: Sunset lodge.  The scenery is beautiful and it is such a wonderful gathering place for meals- the aromas from the food grilling is amazing!
Fun Facts about Vicki:
-I have two daughters, four grandsons and a granddaughter. I enjoy doing activities with them whenever possible.
-I like mystery TV shows- am an Investigation Discovery channel addict!
-My husband, Rick, is the manager of Camp Rim Rock, a nearby girls summer camp.
---
James D. (JD) Anderson, Accountant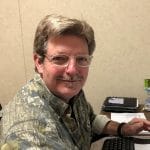 I joined the management team in April 2018 after Phil Guard's retirement.   As "the numbers guy", I take care of the accounting and bookkeeping duties for the resort.  I am hoping to get to know as many of the guests as possible.  My wife and I live in Cross Junction, VA, which is about 25 minutes away from Capon.  I am also a certified Archery Instructor on the side.