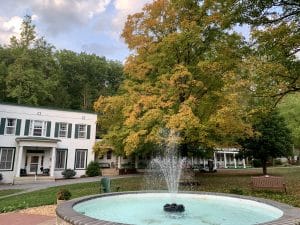 Leave the stress of the world behind and reset your mind and spirit at our secluded, historic WV resort. Here are our top 5 reasons why this time of year is a great time to visit!
And, thru Oct 7 you can enjoy our lowest rates of the season!  Weeknights are only $119 per person per night.  Our rates are per person and cover lodging, three all-you-can-eat meals daily and all resort activities (except golf and spa).  To start planning your getaway, complete this reservation request form and someone from our reservations team will be back in touch as soon as possible to finalize your reservation.
While you are here, explore 4,700 acres of breathtaking wilderness (including 6 hiking trails of varying difficulty), rejuvenate at our Hygeia Bath House & Spa, or unwind on our scenic golf course.  A spring-fed pool beckons on warm days, as do relaxing hammocks and lounge chairs. At night, star gazing, bingo parties and live music are popular activities. All-you-can-eat meals, served family-style, are always a highlight for visitors—and getting seconds for dessert is not frowned upon.
Curious, what the Capon experience is like in 2020?  Take a look at this photo slideshow from the past few weeks.  And here's how some of our guests described their recent Capon trip:
"Capon has been our destination of choice since 1971. We've traveled the world but always make time for Capon. Our latest visit was during the Covid-19 epidemic. Capon, true-to-form, adjusted to the necessary limitations of the present day environment allowing us to thoroughly enjoy our Capon experience once again!"
"Lovely.  Wasn't sure what to expect as a first timer, but so glad we came.  Will be back."
"Capon has done a truly amazing job of providing a safe and welcoming experience.  I can't imagine a better way to take a break from the difficult news in the world right now." 
Feeling like you really want to get away, but you're not sure if you can be safe AND have fun?  We get it.  This year we have asked our guests to complete an online guest experience survey after checkout.  From those over 200 responses, we are proud to say that "safety and security" is our highest rated category and 94% of guests indicated they felt safe at Capon.  When it comes to likelihood of recommending Capon to a friend, our numbers are higher than the best in the industry! You can read all about what we are doing to keep our guests and co-workers safe here.
We invite you to come discover what generations of Capon guests have called "the magic" of Capon!