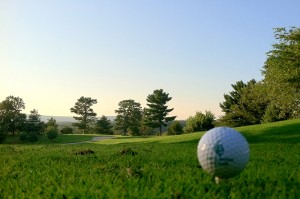 The Capon regulation nine hole course with alternative tees on second nine is enjoyed by golfers of all abilities.  Par is 34 and there are no water hazards, only sand traps.  All supplies and equipment provided free of charge including bags, pull carts, tees, used golf balls & clubs.  Motorized carts can be rented and new golf balls can be purchased.  There is also a fun par-3 prep course where the holes are 30-85 yards long. In 2016, Fling golf was introduced to the prep course.  This hybrid lacrosse/golf family friendly activity involves "flinging" a regular golf ball with loaner "fling sticks".  For 2017, Fling golf play will be available on the regulation course during the afternoons only.
Want to improve your game?  Set up a lesson or join a clinic with Capon's new PGA Pro, Mike Rogers. Golf Lesson Rate Sheet
Meanwhile, enjoy Mike's tips on playing each Capon hole: Pros Tips
GOLF RATES GREENS FEES and CARTS:
Both Courses
Prep Course Only
Cart
$25.00 Daily
$20.00 Fling Daily
$140.00 Weekly
$100.00 Fling Weekly
$7.00 Daily (Fling Golf $5.00 Daily)
$40.00 Weekly (Fling Golf $30.00 Weekly)
$16.00 for 9 holes
PACKAGE: In the Spring & Fall we invite you to come and enjoy the course just for the day with our $45 golf package. This includes green fees, golf cart for 18 holes, lunch and all taxes and tips.  For our 85th anniversary season in 2017, we are offering this same package for two for $85.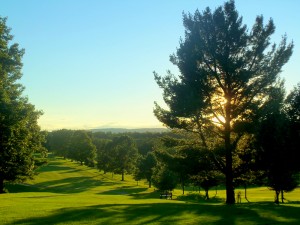 COURSE HISTORY: One of the most popular sites at Capon throughout the years has been the golf course, which is filled with history.  The open area on which the course now lies previously played host to exciting baseball games between Mountain House guests and local residents.
However, when he acquired the property in the 1930's, Lou Austin envisioned a golf course set against the region's natural beauty and landscape. Funds for the project were extremely hard to come by during the Depression.  It was from the help of several women from the nearby community that the golf course was able to be finished and the long-standing honorable relationship between Capon and the local residents was formed.
Construction was completed on the nine hole regulation course seventy years ago in 1936. A pitch and putt, par 3, course was later designed for beginners and became available for use during the 1954 season. Today, Capon guests continue to enjoy the lush, rolling hills and majestic mountain views of the well groomed course; the reality Lou Austin dreamed of many years ago.