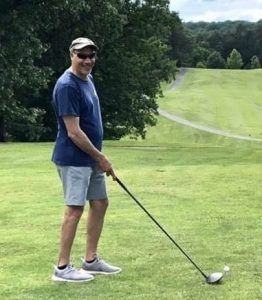 This time of year at Capon is a golf lover's paradise!  Thanks to the rainy days of April and May, the fairways are gorgeously green and the mild weather makes for a really enjoyable time to be outdoors… especially on a course as scenic as Capon's!
We thought it would be fun to do a "Q & A" with our General Manager, Mike Stover, about his experience playing golf at Capon.  If you know Mike at all, you know he loves to play golf—especially at Capon!  Mike was a long-time guest for over 20 years before becoming Capon's general manager and so he has logged many hours hitting the links here.
If you've never played golf at Capon before, here is some background about our two courses.  Our regular golf course is a nine-hole regulation course with tees suited for golfers of all skill levels. The well groomed layout is a par 34 which measures 2,888 yards from the back tees and features tree lined, wide fairways with no water hazards. But don't let those stats fool you—Capon's course can and often will play longer and tougher than those stated yardages and par. Bring your camera as the WV mountains make a wonderful backdrop… even a bad round here is not really bad. Once you're here…you'll understand!
Capon also has a nine-hole par 3 course, called "The Prep Course" where you can bone up on your short game and enjoy a fun game of golf. The holes on The Prep Course measure 30 to 85 yards in length with small, relatively flat greens for your enjoyment.  A perfect course for kids learning to play!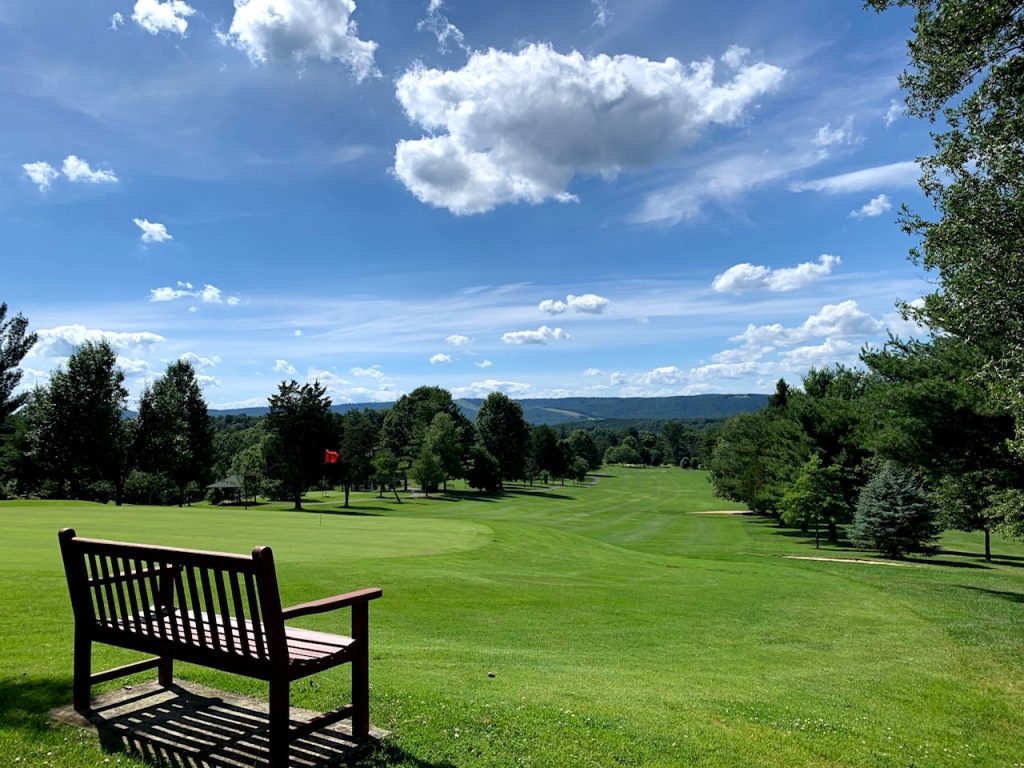 Ok, now here is the Q & A with Mike!
Q:  What do you love about playing on Capon's course?
A:  Hands down the views– the trees, the mountains and the fresh cut grass.  ​
Q:  What is your favorite hole and why?
Hole #3, "Mountain View"– by far the toughest hole on the course for me.  It is the hole that will make or break my round, so I like the challenge.  A couple of weeks ago I was leading Tom Austin (3rd generation Austin family member) by four strokes after two holes and when we walked off the green on hole #3, we were tied.  He looked at me and said, "I didn't expect you to give me back those strokes in one hole!"
Q:  Favorite spot on the golf course and why?
A:  ​In front of the Sunset lodge with the view looking out.  That view never gets old!

Q:  What are some of your favorite memories on the course?
A:  Teaching the kids and playing rounds of golf with all six of us.  Although I believe only one daughter was really interested in playing– the other three just wanted to drive the cart and have an apple juice or ginger ale at the cooler.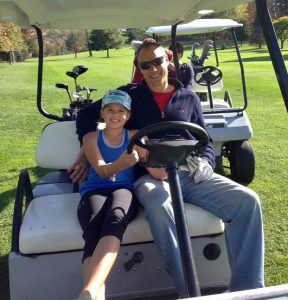 Q:  What makes Capon's golf course special?
A:  The honor system for rounds played, leaving your bag on the cart and it being yours for the week, all the guests that learned to play golf at Capon or only play one time a year when they are at Capon​
Q:  What tips do you have for someone playing Capon's course for the first time?
A:  As those that play with me can attest, I should not be giving tips.  I have hit balls from places on that course that many family members and guests have never seen!
Q:  How would you describe Capon's course to someone who has never played it before?
A:  It's a mountain course with breathtaking views and you are always hitting off a hillside.
To learn more about our golf course and to check golf rates, please visit our golf page. We often can accommodate day visitors during the week throughout the month of June.  Call (304-874-3695) or email (reservations@caponsprings.net) our front desk staff to check availability.  Hope to see you out on the course!

Room Availability & Pricing
Stay in one of our 14 wonderful, unique cottages with a variety of accommodations within each one.
Find Your Room