MEETING PLACES: The auditorium, complete with stage, will seat up to 150 adults. There are three convenient 15-25-seat meeting rooms. Newly constructed, a larger conference room seats 30-45 people and is equipped with a small kitchen. Handicapped accessible bathrooms are also available. (Many of the guest cottages have living rooms available for informal gatherings.) Click the diagram below for a larger PDF view.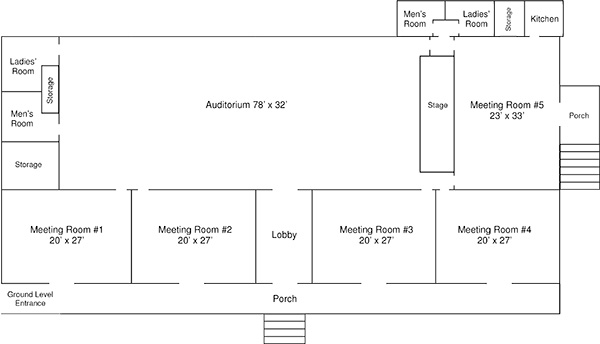 SUPPLIES: Padded non-fixed chairs, 6 and 8 ft rectangular tables, wireless DSL Internet, flip charts, easels, overhead projector, LCD big screen projector, microphone, DVD player, TVs, CD player and sound system. Copier and fax machine available for use. (Fax number: (304) 874-3578).
RECREATIONAL OPPORTUNITIES: Besides having 4700 acres to explore, the golf course and spa are especially nice features for groups to enjoy when they are not in meetings. Onsite outdoor sports like shuffleboard, volleyball and Frisbee golf provide great team building options. Local wineries, museums and historical sites are available for side trips.