About Us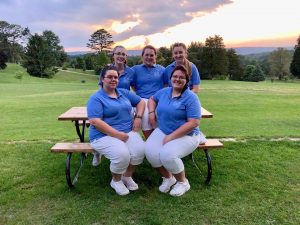 We are an all-inclusive, family-friendly summer resort open for overnight guests from April to November each year.  We are located on 4,700 acres in Hampshire County, WV (about 2 hours west of D.C.) and have been owned and operated by the Austin family since 1932. Amenities include a spa, 9-hole golf course, spring-fed swimming pool, hiking trails, fish pond, and numerous outdoor recreational activities including tennis, pickleball, disc golf, shuffleboard and badminton. 
Since 1932, when Virginia Austin first began welcoming guests to Capon as if she were welcoming them into her own home, we have prided ourselves on providing the best home-away-from-home experience for our guests.  Our goal is for guests to leave Capon feeling restored and with a deeper connection to themselves, their family, friends and nature.  Our traditions, simple comforts and the lasting friendships we have built with our guests and with one another have allowed "the magic of Capon" to continue for 90 years and counting!  It's no wonder we were voted West Virginia's Best Family Vacation Spot by WV Living Magazine in 2018, 2019 and 2020.
If you would like to join the Capon family, we'd love to hear from you!  Please fill out an application and submit it to HR@caponsprings.net.  Please note that because we are a seasonal resort, we do most of our hiring for the upcoming season beginning in February each year.
Benefits:
In addition to a warm, friendly environment and a beautiful mountain landscape, we offer great benefits including:
Health, Dental and Vision Insurance (for full-time salaried employees)

401k

Vacation Days (for full-time salaried employees and some hourly employees)

Holiday Pay (for year-round hourly employees)

Complimentary meals during work hours

Discounts at our Hygeia Bath House & Spa, the golf course and gift shop

Use of facilities

"Above and Beyond" Spot Bonuses
Uniforms

Co-Worker holiday parties

Co-Worker family events
Current Openings:
Job Summary:
The Director of Operations is responsible for efficiently and effectively managing the day-to-day resort operations in season, and successfully planning and coordinating operations in the offseason. The Director of Operations' key priorities are to maximize the co-worker satisfaction and financial performance within supervised departments, and partner closely with the Director of Guest Services to ensure the needs of guests are understood and addressed.
Because Capon is such a unique and special place, ideal candidates will possess an appreciation for Capon's history and values.  We are looking for an individual with a proven track record in leading, coaching and motivating teams; hospitality experience is not required.
Supports the Maintenance Supervisor and Facilities Manager by providing leadership in the daily operations of the maintenance department and assists with the coordination and supervision of the upkeep, maintenance, and repair functions for the resort.
Kitchen Supervisor (Year-Round, Full Time/Hourly **Sign On Bonus Available)
Under general supervision of the Food and Beverage Manager, responsible for coordinating operations of the cooking kitchen and assigning tasks to cooking kitchen coworkers. Responsible for the preparation of main dishes served in a 250 guest capacity dining room, with set meal times and all-you-can-eat family style of service. Oversees food preparation and maintains a clean and safe food service environment.
Job Summary:
Seeking highly motivated massage therapists to join the team at Capon's Hygeia Bath House & Spa to perform massage and body treatments and provide personal attention to each guest. Ensures a pleasant, relaxing visit and maintains effective guest relations.
Spa Cleaner
---
Departments:
With so many things to see, do and enjoy at Capon there are lots of career areas to choose from! Chances are we have a department that will be the perfect fit for you:
Bake Shop
Cook
Dishwasher/Utility Worker
Evening Shift Kitchen Worker
Food Shop Sales Associate
Golf Course/Grounds/Farm
Housekeeping
Day Shift Kitchen Worker
Maintenance/Construction
Massage Therapists
Office/Front Desk
Recreation/Lifeguard
Spa Office
Spa Cleaner
Wait Staff
Capon's Mission Statement:
We will be a home away from home where guests are family. We will cherish traditions and simple comforts and foster guests' relationships with family, friends and nature.