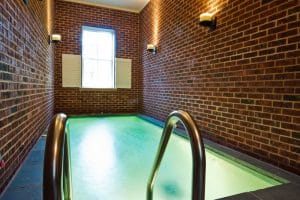 Many people have been asking recently if the spa is open for folks who just want to come for the day to enjoy services at the spa… YES! Massage, reflexology, soaking baths and the swim spa are all available for day visitors, Tuesday – Saturday to help you relax and de-stress… and we all could use a little of that these days!
Curious about the spa experience in 2020?  Here is what a few of our guests had to say about their recent experiences:
"My mom and I came up for a day trip for spa treatments and Wednesday lunch on the hill. The staff at the spa were great at explaining the safety procedures and answering questions, allowing us to feel comfortable and able to relax.  The massages, soaking baths and swim spa all feel very private and clean. It was the perfect mini-getaway and we're looking forward to another day trip soon!" -Annemarie, Virginia
"As a more than 10 year user of Hygeia, I was not sure how things would feel in 2020 but my worries were gone as soon as I checked in at Capon. My scheduled appts along with the current expectations were laid out for me. I was greeted at the door at my appt time while wearing a mask and after being asked health questions and having my temperature taken, I was given a robe as I requested for the "complete" spa experience. The calmness just entering Hygeia is the same. As I entered the rooms for both my soaking baths and my swim spa, everything was as it has been in the past. I highly recommend going to Hygeia as a way to escape the stress that 2020 has brought on." ~Marianne, Maryland
"I was looking forward to my massage at the Hygeia just like any other year. The protocols for COVID were clear and well thought out; the massage therapist was masked the whole time as well, and I was relieved that I did not have to wear my mask during the massage. When I was on my back, two warm hand towels were placed on my face to protect me and the massage therapist. The massage experience was comfortable and I was very glad the spa was open for guests to enjoy it. The serene atmosphere was a wonderful experience for me and other guests who I spoke to." ~Caroline, Virginia
Learn more about the Hygeia Bath House & Spa including our list of services and safety protocols for 2020 here: www.caponsprings.net/activities-food/spa/
Relaxation awaits at the Hygeia Bath House & Spa… Request an appointment here!
Room Availability & Pricing
Stay in one of our 14 wonderful, unique cottages with a variety of accommodations within each one.
Find Your Room